We are excited that you would like to join the Mount Notre Dame community!
Follow the steps below for admission to MND's Class of 2025.
Information Nights – Wednesday, September 14 and Wednesday, October 7, 6:30 PM
Attending an Information Night is a great way to learn about MND's Academic, Student Life and Spiritual Life programs. CLICK HERE for Information Night details and registration.
Open House – Sunday, November 1, 1-4 PM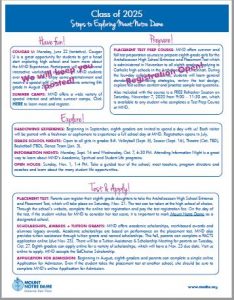 Take a guided tour of the school, meet teachers, program directors and coaches, and learn about the many student life opportunities.
Shadowing Experience
Eighth graders are invited to spend a day with us! Each visitor will be paired with a freshman or sophomore to experience a full school day at MND.  CLICK HERE for shadowing information and registration.
Grade School Nights
Open to all girls in grades 5-8 who would like to visit MND and watch our athletic teams in action or see our theatre group or dance team perform.  CLICK HERE to learn more about Grade School Nights.
Test & Apply
Entrance Placement Test & Application for Admission                                                                             
Beginning in July, parents can register their eighth-grade daughters to take the High School Placement Test, which takes place on Saturday, November 21. The test can be taken at any all-girl or co-ed Cincinnati Archdiocesan high school, but we encourage her to take the test at MND. Through the school's website, complete the online test registration and pay the $30 registration fee.  On the day of the test, if the student would like MND to consider her test score, it is important to mark Mount Notre Dame as a designated school.
Eighth graders and parents can complete a simple online Application for Admission. Even is the student takes the HSPT at another school, she should be sure to complete MND's online Application for Admission. A completed HSPT registration serves as the application for admission to MND.
Scholarships, Awards and Financial Assistance (Optional)
MND offers academic scholarships, merit-based awards and alumnae legacy awards. Eighth graders can apply online for a variety of scholarships (named and merit), which have a November 23, 2020 due date. The scholarship application will be available in the fall. MND also provides tuition assistance through financial aid and named scholarships.  Parents can CLICK HERE to complete a FACTS application (due November 23, 2020). A Tuition Assistance & Scholarship Meeting is held on Tuesday, October 27 at 6:30 PM for interested parents. MND accepts the Ohio EdChoice Scholarship.
Billiart Scholars Recognition Evening – Tuesday, January 19, 2021
MND awards Billiart Scholar Honors Program Scholarships to incoming freshmen who score in the 90th percentile or above, or who score a Cognitive Skills Quotient (CSQ) of 125 or above on the HSPT. This academic program is named after St. Julie Billiart, the foundress of the Sisters of Notre Dame de Namur.
Admissions Notification
Mount Notre Dame – an exceptional Catholic, college-preparatory high school – embraces the gift of diversity in our students' academic levels, as well as ethnic, religious, and socioeconomic backgrounds. Our hope is to welcome every young woman who desires a Mount Notre Dame education. Admission acceptance is determined by a committee who carefully reviews each application. Special admission consideration is given to granddaughters, daughters and sisters of MND alumnae, and sisters of current students.
An email notification will be sent to all applicants at 5:00 PM on January 13, 2021 with admission status. In addition, MND will mail an enrollment packet to each accepted student's home containing admission information, test results, registration directives, and notification of any awards (academic, scholars program, merit, named, tuition grants).
Registration
Registration for accepted students in MND's Class of 2025 will take place on January 27, 2021 from 3:30 PM – 7:30 PM in the MND Foyer. An enrollment fee is due at the time of registration. Mount Notre Dame will enroll all accepted students for the Class of 2025 on January 27, 2021 (Registration Day) and will continue to do so after this date until enrollment capacity is reached.