Explore all that MND has for You!
HSPT PREP CLASS or PRACTICE TEST
Interested in having some help getting ready for the High School Placement Test?  If so, we have a September Prep Class and October Practice Test we can offer.  CLICK HERE for more information about these opportunities.
SHADOWING EXPERIENCE
Beginning September 9, eighth graders are invited to spend a full school day at MND to shadow a freshman or sophomore hostess. This is a wonderful opportunity to explore firsthand the academic experience at MND! CLICK HERE to register.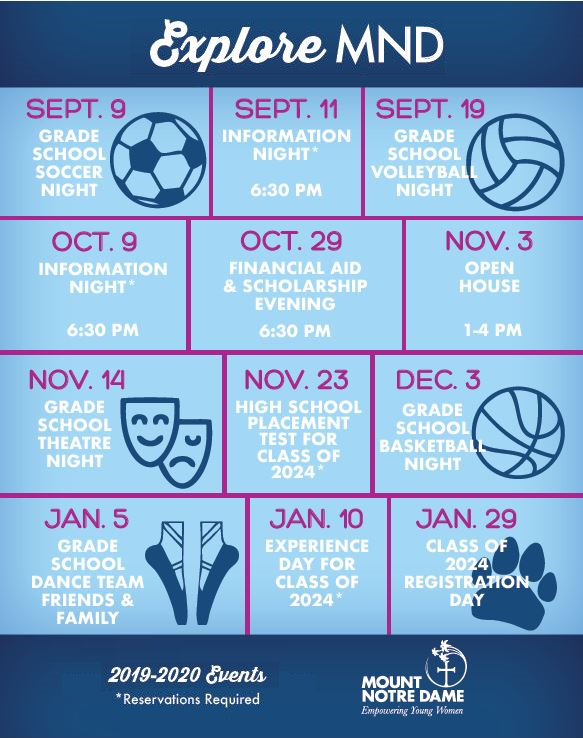 INFORMATION NIGHTS
Wednesday, September 11 and Wednesday, October 9, 6:30 PM. Attending Information Night is a great way to learn about MND's Academic, Student and Spiritual Life. CLICK HERE to let us know you will be joining us.
OPEN HOUSE
Sunday, November 3 from 1-4 PM. Take a guided tour of the school, meet teachers, program directors and coaches, and learn about the many student life opportunities. This is a great chance for all grade school students, especially those in grades 6 and 7, to learn about MND as they begin their journey toward choosing a high school. No Registration Required.
GRADE SCHOOL NIGHTS
Open to all girls in grades 5-8 who would like to visit MND and watch our athletic teams in action or see our theatre group or dance team perform. There is no admission charge for girls in grades 5-8 to attend these events. CLICK HERE to learn more.
TUITION ASSISTANCE & SCHOLARSHIPS MEETING
Parents can join us on Tuesday, October 29 at 6:30 PM to learn about MND's scholarship opportunities and how to complete the financial aid application. CLICK HERE to register.
SCHOLARSHIPS, AWARDS, AND TUITION GRANTS
MND offers academic scholarships, merit-based awards and alumnae legacy awards. MND also provides tuition assistance through grants and named scholarships. Parents can visit www.online.factsmgt.com to complete a FACTS application. Applications are due November 18, 2019.
CLASS OF 2024 REGISTRATION
On January 15, 2020, MND will mail an enrollment packet to each admitted student's home containing information, HSPT results, registration forms and notifications of any awards. Registration will take place on January 29, 2020 from 3:30 PM – 7:30 PM in the MND Foyer.
CLASS OF 2024 COURSE SELECTION NIGHT
March 3, 2020. Students enrolled in MND's Class of 2024 will be mailed course selection information in mid-February. At that time, a personalized schedule will be provided for the family's review. Placement recommendations are based on the placement test scores, grade school records and the observations/comments of eighth grade teachers. Families will have the opportunity to meet with guidance counselors and faculty members to discuss the recommended schedule and placement.