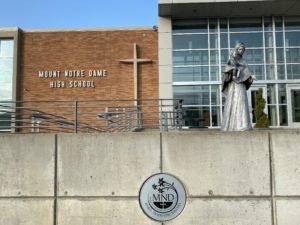 Mrs. Annie Zoz
Human Resources Manager
513-821-3044 Ext. 127

NOTE: Mount Notre Dame employees and volunteers undergo background checks through the Selection.com and must also remain current with the Archdiocese of Cincinnati VIRTUS Online Training and Tracking Platform.
Employment Opportunities
Mount Notre Dame Maintenance Opening (Starts January 1, 2021)
Mount Notre Dame seeks to recruit, develop and retain the most talented faculty and staff from a diverse candidate pool. Our goal is to build a team that represents a variety of backgrounds, perspectives and skills and to reflect the learning community we serve.
Job Title: Lead Evening Custodian (2:30 p.m. – 11:00 p.m. some overtime hours)
Responsibilities include
Routine, Daily, Custodial support of entire MND campus
Supervise evening custodians (1.5)
Summer hours change to day shift (8:30-5:00)
Desired Characteristics: Positive, energetic, attention to detail, team player, flexible, timely
Requirements include
Supervisory experience
Ability to work independently
Maintains Confidentiality
Compliance with Archdiocese of Cincinnati Decree on Child Protection Program
Catholic Candidate: Preferred
Benefits included (Health Care, High School Tuition Reduction, Dental, Vision)
Contact: Please email Resume and three References to : dbarney@mndhs.org
Diane Barney, Director of Finance, Human Resources and Campus Operations
Links