The Mount Notre Dame Annual Giving Fund provides the critical dollars used to cover the difference between tuition and the actual cost of educating MND students. Each year, MND alumnae, parents, faculty/staff and friends impact the lives of MND students with a gift to the Annual Giving Fund. Annual Giving Fund dollars are used in many different ways.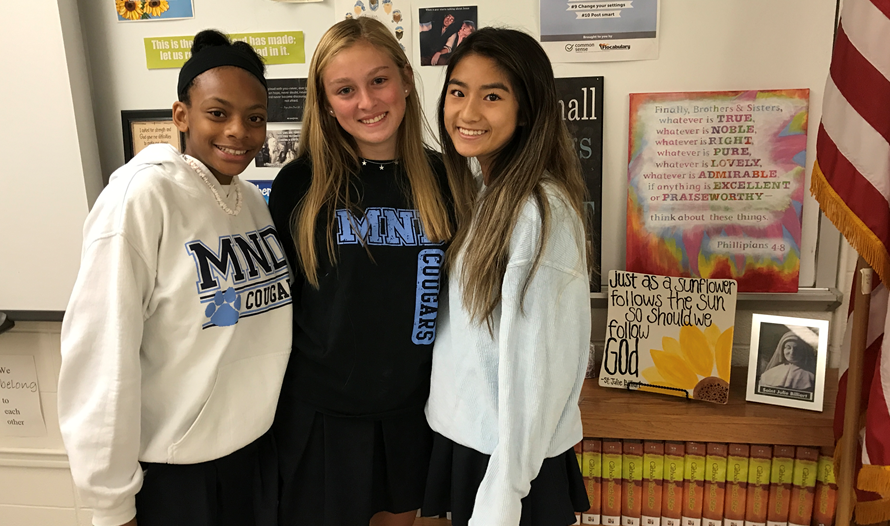 Your Annual Giving Fund investment helps Mount Notre Dame:
• 'fill the gap' between tuition charged and the cost of educating students*
• provide tuition assistance to students who qualify
• conduct critical building improvements
• secure vital equipment and educational tools for student use
• provide support for student organizations and services
• maintain the physical beauty of our campus
• provide overall support of our operating budget
* 2020-2021 school year difference between actual costs and tuition charged is $4279 per student
Each year Mount Notre Dame asks our alumnae, parents, faculty/staff and friends to invest in our mission with a gift to the Annual Giving Fund. No matter the amount of the gift, your investment in the AGF enables current students to receive an education that will last with them a lifetime.
For more information about the Annual Giving Fund and how you can help, please contact Cheri Lehrter at 513-821-3044 ext. 106 or clehrter@mndhs.org.
Your credit card information will be transmitted through a secure connection through Blackbaud. Visit www.mndhs.org/security for more details.
Matching Gift Program
Double or triple your investment! CLICK HERE to see if your company may provide matching gifts. If they do, please mail your company's matching gift form c/o Mount Notre Dame, 711 East Columbia Avenue, Cincinnati, Ohio 45215 or email jgallo@mndhs.org.
Sponsor A Student
Help a young woman in need experience the life-changing opportunity of an MND education.  CLICK HERE to learn more.
President's Circle
Membership in the President's Circle is acquired with an investment of $1000 or more.  CLICK HERE to learn more.