Welcome to Mount Notre Dame High School!
I am sure you will find that there are great things happening here! I encourage you to explore our website, come visit our school, and talk to current students and graduates so you can learn more about us.
I am a graduate of MND and am thrilled to be back "home". I am continually amazed at the excellent opportunities that are available for the young women who attend our school – in academic offerings, service opportunities, sports teams, and many clubs and organizations. My responsibility as President is to ensure that the mission and vision of Mount Notre Dame is carried out in all these areas. Please feel free to contact me via phone or e-mail if you ever have a question or concern about this.
We are grateful to be partners with parents in the education and development of the students. It is an honor and a true blessing! Please be assured that we take this opportunity very seriously and will always look out for what is best for the student. I encourage you to stop by and introduce yourself sometime.
Sincerely,
Mrs. Judy Back Gerwe '78
jgerwe@mndhs.org
513.821.3044 x101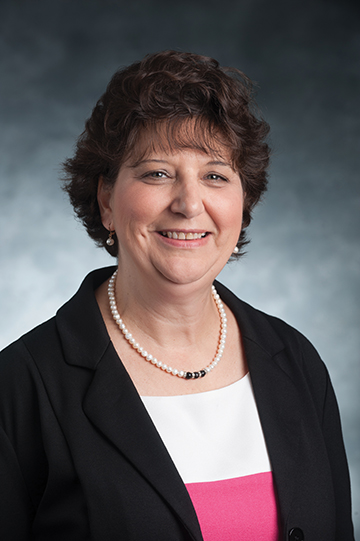 President's Monthly Message – December 2019
Dear Friends of Mount Notre Dame,
Christmas is almost upon us and I would like to begin my letter with wishes for a very Merry Christmas and Happy New Year! I hope you had a wonderful Thanksgiving and are looking forward to spending some time with your loved ones over the holidays.
In preparation for the Christmas season, students were treated to a choral and band concert on December 6 and alumnae were invited to a Cocktail Party on December 12. We also celebrated the Feast of the Immaculate Conception as a school on December 9. Students will finish their first semester exams today, allowing them and our faculty to take a break until January 6, 2020.
Were you able to catch our theater production of Matilda last month? It was very well done and enjoyed by several sold out crowds! Students are performing Twelve Angry Jurors in February and Into the Woods in May. You can check out https://www.mndhs.org/student-life/mndt-theatre-program/ for more information. We have such an amazing, no-cut educational theater program and look forward to the new Performing Arts Center that will be built as soon as the funds are raised. Please let me know if you would like to learn more about investing in this much needed and well-deserved space for our students.
Our students had the opportunity to celebrate the Sacrament of Reconciliation at MND December 3 and 4. Every student spent their religion block in an Advent Prayer Service and many area priests came in to meet with the girls individually. The priests that help us out always comment on how much they enjoy spending time at Mount Notre Dame and we can't thank them enough for their willingness to help. We will have another opportunity for the students to participate in the sacrament during the Lenten season.
Fall Shadow Days came to an end last week with MND welcoming over 400 interested eighth grade girls from many grade schools across the area. We will be offering an Experience Day January 10 for eighth graders to learn more about our academic program and extra-curricular opportunities, and two more shadow days at the end of the month. Please encourage any eighth-grade girl you know to sign up for this day, and a shadow experience if she hasn't already had one. Families can go to our website and click on Admissions to register. We are now busy preparing Registration packets that go out in the mail January 15. Our enrollment for next year is once again looking strong and I want to thank you for any help in spreading the word about the value of a Catholic education, especially at MND. Our Registration Day is January 29 from 3:30 – 7:30 pm. Please pray for our eighth graders as they decide on the right high school for them.
Did you hear that our varsity basketball team beat the number one girl's basketball team in the country in our first game of the season November 23? We are currently ranked 8th in the nation in last week's polls! You can find a basketball schedule and other winter sports schedules HERE. We would love to see you come out and cheer on the Cougars at one of our games!
Giving Tuesday this year was met with great success. On-line and student giving, along with the investments of so many benefactors, helped put us at almost 70% of our $560,000 goal for this year. Our fiscal year runs from July 1 to June 30 so there is still time for you to invest in this important fund. Thanks in advance for your continued support!
Preparations for the new Gala are well underway! For information about the event and ways you can get involved, please visit at https://www.mndhs.org/support-mnd/the-gala/. There is a flash sale going on now until Friday for reduced ticket prices. I hope you can attend the event scheduled for March 7, 2020 at the Kings Island Festhaus. It is sure to be a new adventure that you don't want to miss! We are also looking for sponsorships, gifts and experiences to auction, and raffle ticket purchases.
I look forward to communicating with you the third Monday of each month to keep you up to date on all the exciting things happening at MND. Please visit our webpage and look for us on Facebook, Twitter and Instagram. Let me know if you would like to chat or stop in for a visit – I am happy to answer any questions and would love to show you around!
Wishing you a Holy and Blessed Christmas Season,
Judy Back Gerwe '78
President