Welcome to Mount Notre Dame High School!
I am sure you will find that there are great things happening here! I encourage you to explore our website, come visit our school, and talk to current students and graduates so you can learn more about us.
I am a graduate of MND and am thrilled to be back "home". I am continually amazed at the excellent opportunities that are available for the young women who attend our school – in academic offerings, service opportunities, sports teams, and many clubs and organizations. My responsibility as President is to ensure that the mission and vision of Mount Notre Dame is carried out in all these areas. Please feel free to contact me via phone or e-mail if you ever have a question or concern about this.
We are grateful to be partners with parents in the education and development of the students. It is an honor and a true blessing! Please be assured that we take this opportunity very seriously and will always look out for what is best for the student. I encourage you to stop by and introduce yourself sometime.
Sincerely,
Mrs. Judy Back Gerwe '78
jgerwe@mndhs.org
513.821.3044 x101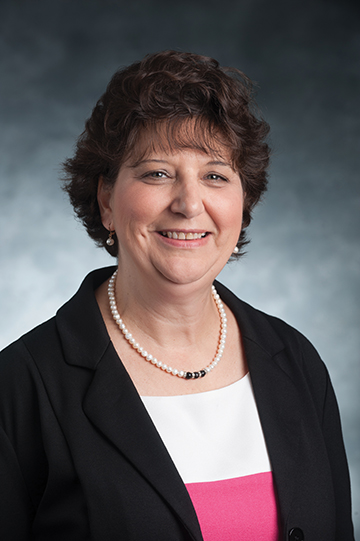 President's Monthly Message – August 2020
Dear Families and Friends of MND,
We are excited to welcome our Faculty and Staff back in the building today for our Opening In-Service. Orientation Days for freshmen and transfer students is scheduled for later this week, August 20 and 21, and the annual senior picnic will be held in shifts on August 23. We plan to welcome back the entire student body for our first day of classes on August 24. Please join with me in praying that our MND community – students, parents, faculty and staff – has a great start to the 2020-2021 school year!
The leadership of the school has worked tirelessly all summer to create an environment that will be both safe and accessible. We have tweaked and re-tweaked our plans according to the latest information available. We have read a lot and talked to a lot of people. For safety measures, every teacher podium has been outfitted with plexiglass and we have provided each teacher with a large trifold barrier for use on the teacher desk. We have created space between student desks and will require face masks for everyone. Barriers have been created for students in the labs, art rooms, Learning Commons and College and Career Center where tables are shared. We also have barriers in the cafeteria for student use as well as a tent to cover the patio, giving us additional space to seat students for lunch and to provide additional spacing between tables. Every classroom is equipped with hand sanitizer and the students will wipe down their desks and chairs at the end of each class period with a sanitizing solution. We are ready to welcome our students back into the building!
The Board of Trustees is also preparing for the new school year. They will attend a virtual SNDdeN Mission Integration Board Retreat on August 25 along with Board members and school leaders of the three other SNDdeN schools in our area – Chaminade Julienne, Summit Country Day, and Badin High School. Our Board Committees are beginning to meet again for the new year and we will have our first Board Meeting September 22. I am so grateful to the Board members for sharing their time, talent and treasure and extend a big welcome to our newest members.
Each year the Sisters of Notre Dame ask us to prepare an Annual Report that looks at how we are continuing the charism of St. Julie Billiart and sharing the Catholic faith with our students, as well as how we are doing fiscally as an institution. Members of the Board of Trustees and I will present the report to the SNDdeN Leadership Team soon. We are pleased to share what we are doing in our school to continue the great tradition that began with the Sisters in 1860.
Be on the lookout for the summer issue of Developments, including our annual Honor Roll of Donors, in your mailbox. In it you can read about how we kept the MND spirit alive during distance learning in the last three months of last school year, the accomplishments of the Class of 2020 and information about the public phase of our campaign as we continue construction of the new Performing Arts Center. Thanks to all of you who were able to support us financially this year. We couldn't do what we do without your support.
Did you know that MND owns some property across the street from our entrance on Benson? It included a "green" house that was used to store much of the theater costumes and props over the years. The building was in poor shape and we had it razed this summer. We probably won't be doing anything with the lot right now, but it is part of our school Master Plan. Contents in the building will be housed in the new Performing Arts space.
Although we couldn't have a large celebration for our annual Spirit of Julie awards, the honorees and limited guests for each were recognized at a socially distanced gathering in our cafeteria last week. Congratulations to the following amazing women who embrace God's goodness every day: Terri Butz Kerley '82 – Sunflower Award, Peg Auciello Halpin '79 – Community Impact Award, Courtney King – Honorary Alumna Award, Jeanne Wietmarschen – Faculty and Staff Hall of Fame Award and Sr. Carol Diemunsch, SNDdeN – Memorial Merit Award. It was a wonderful event!
If you are a sports fan, you probably know that the OHSAA (Ohio High School Athletic Association) has pushed back the start of fall sports to the end of this month. However, we were able to have conditioning and try outs and our teams are formed. The students and one parent from each family were invited to a Meet the Teams Night earlier this month to learn more about the program and to get to know each other a little better. For more information, including expected game schedules, visit our website or click on the link https://www.mndhs.org/athletics/fall-sports/#1565573089341-81b5918b-d87b.
Things will be looking a little different as we start the school year since we cannot have the entire school gather in one place right now. However, we are being creative in how we are celebrating together and will still host our traditional opening assembly, Leadership Assembly, and opening school mass. Our shadowing program for eighth grade students and Information Nights for parents will also look a little different, but we are using this time as an opportunity to try new ways to engage prospective students and parents. Please help us get the word out by directing any families you know who may be interested in a Mount Notre Dame education to our website at www.mndhs.org.
Our Advancement Staff works very hard to create meaningful engagement with our constituents. We welcome two new members to the team – Karen Foltyn, Constituent Engagement Officer/Gala Director and Sandy Hoffman, Advancement Assistant. As you can imagine, Advancement sponsored events will be looking a little different this year. Unfortunately, we had to cancel our traditional annual celebration of Grandparents that usually happens in September. However, we will not forget these wonderful people who are so important in the lives of our students and in our MND Community. An e-mail about our plans will be coming soon to current families. The MND Fashion Show, traditionally held in October, also had to be cancelled for the coming year.
Please visit our website and follow us on Twitter, Facebook and Instagram to explore all the great things that are happening at Mount Notre Dame! I look forward to communicating with you the third Monday of each month. Please let me know if you would like to stop in for a visit. I would love to show you around or talk to you about your experiences with MND. My contact information is jgerwe@mndhs.org or 821-3044 x101.
Wishing you grace and blessings of God's Goodness today and every day,
Judy Back Gerwe '78
President