Welcome to Mount Notre Dame High School!
I am sure you will find that there are great things happening here! I encourage you to explore our website, come visit our school, and talk to current students and graduates so you can learn more about us.
I am a graduate of MND and am thrilled to be back "home". I am continually amazed at the excellent opportunities that are available for the young women who attend our school – in academic offerings, service opportunities, sports teams, and many clubs and organizations. My responsibility as President is to ensure that the mission and vision of Mount Notre Dame is carried out in all these areas. Please feel free to contact me via phone or e-mail if you ever have a question or concern about this.
We are grateful to be partners with parents in the education and development of the students. It is an honor and a true blessing! Please be assured that we take this opportunity very seriously and will always look out for what is best for the student. I encourage you to stop by and introduce yourself sometime.
Sincerely,
Mrs. Judy Back Gerwe '78
jgerwe@mndhs.org
513.821.3044 x101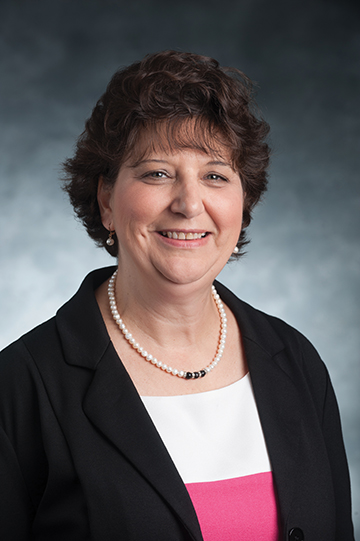 President's Monthly Message – June 2020

Dear MND Family and Friends,
This week we have two special things to celebrate – the first official day of summer on June 20 and Father's Day on June 21. Happy Summer and Happy Father's Day to our MND dads!
We continue to follow the CDC and Governor DeWine's guidelines through this pandemic and are excited to begin "restarting" some things at MND. Much of the summer staff, including myself, have returned to the building and our office is open for business from 8:00 AM to noon each day (summer hours). This past week we began team conditioning and practices, dance practice, and summer theater rehearsals; and we will offer some summer camps starting July 6. We are excited to have our building come back to life with our staff, students and campers!
Mount Notre Dame supports the Black Lives Matter movement as we witness the social unrest and racial tensions that have been occurring across our country. You may have read the statement we published. If not, it can be viewed at MND Stands with the SNDdeN Ohio Province as we "cry out for justice and compassion". Also, alumna Sydney Mukes '16 created an inspiring video at https://youtu.be/wjPeQ1dXLBA. Conversations between the administration and some current black students and alumnae have been taking place. We are listening and learning so that the MND community can continue to grow. Our administration will be working in partnership with the Multicultural Student Union to further develop educational pathways that will help our community better understand racism and how to remove it from our schools, our communities and the world.
We had a great send off for our seniors with a beautiful live-streamed Baccalaureate Mass on May 25 followed by four days of private graduations for each young woman! It was a very different senior celebration, but we tried to make it as special as we could given the restrictions were required to follow. Our freshmen, sophomore and juniors had an end of year Zoom Wrap-Up by homeroom on their last day of classes on May 22. We are hopeful that we will see them all back in the building for the start of the 2020-2021 school year!
Enrollment is looking good for next year. The Class of 2024 is currently 178 students strong and our total population is over 700 students. The incoming freshmen have also experienced a different orientation to the school due to restrictions from the pandemic. We have not seen them since Curriculum Night on March 3! However, each family has been called by a volunteer current parent, MAP meetings are being held via Zoom, small groups were organized to do a virtual Spirit Day event, and the Admissions Office and Administration has been communicating with them as well. Some of our new freshmen are in the building or out on the field as they condition and practice with various team sports. We also hope to see some of them at MND for theater and some of the camps, and also are planning a Service Day on July 18 for the Class of 2024. All freshmen will join transfer students for two days of Orientation August 20 and 21 before school officially begins on August 24. If you see a new MND student, please reassure her that we will work hard to make her experience at MND wonderful!
Unfortunately, we had to cancel our Spirit of St. Julie Awards Celebration that was to be held on April 2 and our Golden Guild Celebration scheduled for May 29. We are looking at alternative dates for these events. Our annual Volunteer Appreciation Reception also had to be canceled and, even though an electronic "thank you" went out, it's just not the same. To all those affected by cancelled events, please know that we appreciate each of you and are so thankful for your commitment to MND. We hope to celebrate with you once again very soon!
I want to remind you that construction is taking place at MND. A group of subcontractors, led by R.J. Beischel Building Company, are working hard to turn the theater and library space into a new Performing Arts Center! Follow MND on Facebook and you will be able to see the progress of the construction. As you may recall, we built a new Learning Commons last summer to take the place of the library and are really looking forward to this next change in our infrastructure. We will be starting the public phase of our Capital Campaign soon, so please stay tuned for more information on how you might get involved. You can call me at 821-3044 x126 if you are interested in learning more.
Another reminder is that our fiscal year ends June 30. If you would like to make an investment in MND for the 2019-20 school year, please make sure we receive it by that date. It is easy to give on our website, www.mndhs.org, by clicking on the donate now button. Thanks to all of you who were able to help us out this year. It takes a village!
As always, I look forward to communicating with you the third Monday of each month. Please let me know if you would like to stop in for a visit. I would love to show you around or talk to you about your experience with MND.
As always, I look forward to communicating with you the third Monday of each month. You can reach me by phone at 821-3044 x101 or at jgerwe@mndhs.org.
Wishing you a safe and happy summer,
Judy Back Gerwe '78
President