Welcome to Mount Notre Dame High School!
I am sure you will find that there are great things happening here! I encourage you to explore our website, come visit our school, and talk to current students and graduates so you can learn more about us.
I am a graduate of MND and am thrilled to be back "home". I am continually amazed at the excellent opportunities that are available for the young women who attend our school – in academic offerings, service opportunities, sports teams, and many clubs and organizations. My responsibility as President is to ensure that the mission and vision of Mount Notre Dame is carried out in all these areas. Please feel free to contact me via phone or e-mail if you ever have a question or concern about this.
We are grateful to be partners with parents in the education and development of the students. It is an honor and a true blessing! Please be assured that we take this opportunity very seriously and will always look out for what is best for the student. I encourage you to stop by and introduce yourself sometime.
Sincerely,
Mrs. Judy Back Gerwe '78
jgerwe@mndhs.org
513.821.3044 x101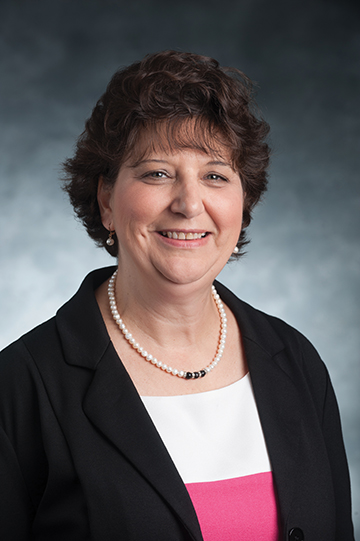 President's Monthly Message – November 2020
Dear Families and Friends of MND,
As Thanksgiving approaches, on behalf of the MND Community I extend warm wishes for a wonderful holiday to you and your family. Happy Thanksgiving! Here at MND we are thankful for the many blessings that God has bestowed upon us, including each of you. Please know that you are remembered daily in our prayers. Although the holidays may look different this year due to the pandemic, I hope you take time to relax, reflect and celebrate with your family.
You may have heard that MND moved to Scenario 2 this past Thursday, Nov. 12. Scenario 2 allows half of the student body to attend classes in-person on Monday and Tuesday and the other half to attend in-person on Thursday and Friday. We are still using Wednesdays for our NTI (non-traditional instruction) Days. All students are engaged in learning five days a week – the only change is how often that engagement is in-person. Our goals for moving to Scenario 2 include keeping our community healthy while minimizing quarantining, creating some consistency in who is in-person and who is remote, and helping families avoid infection or a mandated quarantine during the holiday season. We will remain in Scenario 2 through January 15. Please join us in praying for an end to the massive spread of this virus.
Although we have had to continually adapt due to the pandemic, the MND experience continues! Just this past month students went on a Liberty trip, we offered some retreat experiences, Parent-Teacher Conferences were held both in-person and virtually, ACT Testing was offered at MND, we celebrated Multicultural Week, and we had our first ever Heritage Mass on October 28. Sophomores and Juniors joined us for the celebration in-person as the freshmen and seniors joined virtually in their homerooms.
We were also blessed to welcome 6th through 8th graders and their parent to our Open House on November 1. We extended our hours and set appointment times to help with safety protocols and social distancing. The frenzied excitement was missing, but I think the families appreciated the attention they received. We were also able to hold our Financial Aid and Scholarship meeting in a COVID friendly manner and continue to bring in small groups of 8th graders and their parent to experience MND on our NTI Days. It is time for 8th graders to apply for admission and to complete Financial Aid and Scholarship forms. Please direct any 8th graders you know to our website for more information. We are hopeful for a healthy enrollment from the Class of 2025!
The 2020 Gala has kicked off with the Gala Raffle! Students are encouraged to sell tickets and earn some great prizes. You can help by purchasing tickets at https://www.mndhs.org/support-mnd/the-gala/ . Please make sure you put the student's name in the space provided. Please look at this page for additional opportunities to get involved and stay tuned for Gala Updates as they become available. The Gala is our single largest annual fundraiser. If you purchase gifts for the Gala through Amazon, or use Amazon for your own shopping, please consider setting your Amazon Smile to MND so that we can receive a portion of the sales.
This week we will kick off our Giving Tuesday campaign by sharing with our students how they can show appreciation toward their school by giving some of their own money to the Annual Giving Fund. We hope you will also consider investing in the Annual Giving Fund if you haven't already done so. Our goal this year is $560,000 and we can use everyone's help! You can give directly at https://www.mndhs.org/support-mnd/annual-giving-fund/ or by contacting Cheri Lehrter at 821-3044 x 106.
Our fall sports had a great season with cross country, field hockey, soccer and volleyball all participating in tournament play. We celebrated their successes and the volleyball road to the final four at an impromptu outdoor pep rally last week out on the field – after a fire drill. Volleyball brought home the win for State Championship yesterday afternoon! Congratulations to all our Cougar athletes, their coaches, and the MND Athletic Department!
Make plans today to see our Fall Musical, Joseph and the Amazing Technicolor Dreamcoat. It will be performed in the gym in concert style since our theater is being renovated into a new Performing Arts Space. Space is limited and social distancing and masks are required. Showtimes are 7:30 pm on November 20, 3:00 and 7:30 pm on November 21 and 3:00 pm on November 22. Tickets are $10 and can be reserved via the MNDT Ticket Hotline (513) 821-3044 ext. SHOW. Thanks for your support!
It has been a busy semester with sports, theater and all the other co-curricular activities we offer at MND! Our students are preparing for the end of the first semester and have exams scheduled the week of December 14. Please pray that they finish the semester strong.
We are currently in the public phase of the Achieve More… Now and Forever campaign. Please check out https://www.mndhs.org/now-and-forever-campaign/ to learn more. You can also e-mail me at jgerwe@mndhs.org or call me at 821-3044 x126 if you want to get involved.
As always, I look forward to communicating with you the third Monday of each month. Feel free to visit our webpage anytime for current happenings, and please let me know if you would like to talk.
With best wishes for a Blessed Thanksgiving and Advent Season,
Judy Back Gerwe '78
President