Welcome to Mount Notre Dame High School!
I am sure you will find that there are great things happening here! I encourage you to explore our website, come visit our school, and talk to current students and graduates so you can learn more about us.
I am a graduate of MND and am thrilled to be back "home". I am continually amazed at the excellent opportunities that are available for the young women who attend our school – in academic offerings, service opportunities, sports teams, and many clubs and organizations. My responsibility as President is to ensure that the mission and vision of Mount Notre Dame is carried out in all these areas. Please feel free to contact me via phone or e-mail if you ever have a question or concern about this.
We are grateful to be partners with parents in the education and development of the students. It is an honor and a true blessing! Please be assured that we take this opportunity very seriously and will always look out for what is best for the student. I encourage you to stop by and introduce yourself sometime.
Sincerely,
Mrs. Judy Back Gerwe '78
jgerwe@mndhs.org
513.821.3044 x101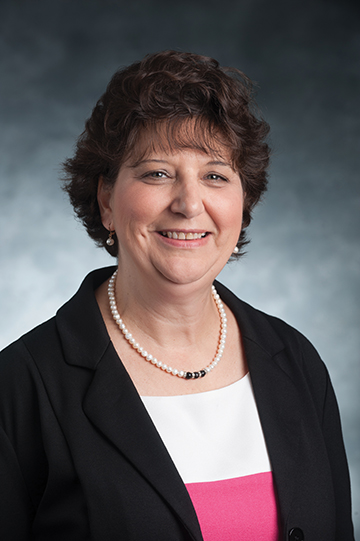 President's Monthly Message – March 2020

Dear Friends of Mount Notre Dame,
I would like to start my letter with a quote from St. Julie Billiart, the foundress of the Sisters of Notre Dame de Namur – "I place all my hope, all my confidence in the Lord. With God I can overcome all difficulties."
To say the last week or so has been difficult may be an understatement. We are all living in a time of uncertainty with things changing by the minute. However, our faith in God and commitment to each other will get us through this troubling time in our state, our nation, and our world. I am certain this crisis has affected each of you in some way and want you to know that you are lifted up in our daily prayers – even when we are not in school. Please also pray for our students, faculty and staff as we all weather this storm together.
As you know by now, Governor DeWine has closed all schools until at least April 6. We are fortunate in that MND has had a One-to-One Tablet PC Program for over ten years and our students and faculty are great at using this technology. MND Principal, Karen Day, and her talented faculty have worked together to prepare and launch a Digital Distance Learning Plan that allows us to hold a school day in a non-traditional manner. Although we are sad that the halls will not be filled with the student's energy and joy, we are excited what this opportunity holds for alternative ways to learn.
It has been busy around here since I last wrote. Our students had the opportunity to celebrate mass for Ash Wednesday as a school community and we had Exposition of the Blessed Sacrament the following week for those who wanted to spend some quiet time in God's presence. We also had our last two senior retreats for the year – a Kairos Retreat and a ROPes Retreat.
Our Course Selection Night for incoming freshmen was held March 3 and our 171 new students came with their parents to prepare their schedules for next year. It was exciting to feel the enthusiasm of the newest members of our MND family!
In my last message I reminded you that The Gala was taking place on March 7 at Kings Island's Festhaus. It was an incredible evening and the new look was wonderfully received! A big congratulations goes out to Gala Director, Lisa Houser, and her team for putting on such a wonderful event.
The number one ranked MND Cougar Basketball team captured regional and district championships and were headed to State last weekend, but unfortunately the games were cancelled. However, we were able to have our "send off" pep rally just hours before we learned that there would be no state competition. Although our girls are extremely disappointed, we are very proud of the team and our coaches for having such an incredible season! We also celebrated our State Runner-Up Diver, junior Sarah Krusinski. Congratulations, ladies!
You may also know, or are expecting, that several activities and events had to be postponed during this time away from school. On the student side we had to postpone one of our most amazing events – the Senior Capstone Evening. Seniors have had the opportunity to present their projects to other students, but we did not have the panelists and parents present as that was scheduled for this Wednesday. We also postponed the Father-Daughter Dance planned for March 27. Our Spirit of St. Julie Awards and Scholarship Breakfast scheduled in early April also had to be postponed. We will keep you updated on when these and other events take place.
Finally, although we continue to offer investment opportunities in support of our mission and vision, we will not be promoting these opportunities during this time of crisis. The impact of the Coronavirus has escalated so quickly that we did send out some information last week in support of the Annual Giving Fund before it was felt. As always, we respect your personal decision on how you wish to support MND and we thank you for your gifts of time, talent and treasure.
I look forward to communicating with you the third Monday of each month. Since I won't be writing to you again until after Easter, please accept my early wishes for a Blessed Easter. Hopefully by then the worst of this crisis will be behind us.
Wishing you grace and blessings of God's Goodness today and every day,
Judy Back Gerwe '78
President