Welcome to Mount Notre Dame High School!
I am sure you will find that there are great things happening here! I encourage you to explore our website, come visit our school, and talk to current students and graduates so you can learn more about us.
I am a graduate of MND and am thrilled to be back "home". I am continually amazed at the excellent opportunities that are available for the young women who attend our school – in academic offerings, service opportunities, sports teams, and many clubs and organizations. My responsibility as President is to ensure that the mission and vision of Mount Notre Dame is carried out in all these areas. Please feel free to contact me via phone or e-mail if you ever have a question or concern about this.
We are grateful to be partners with parents in the education and development of the students. It is an honor and a true blessing! Please be assured that we take this opportunity very seriously and will always look out for what is best for the student. I encourage you to stop by and introduce yourself sometime.
Sincerely,
Mrs. Judy Back Gerwe '78
jgerwe@mndhs.org
513.821.3044 x101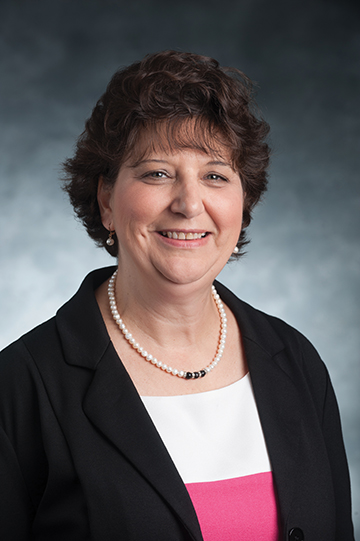 President's Monthly Message – July 2019
Dear MND Family and Friends,
As promised, I am writing to you after the return of my pilgrimage to Belgium and France. There were nine of us that took part in this amazing adventure led by Sr. Marie Kelly, SNDdeN – all connected to the sisters in one way or another. We began our journey at the Mother House in Namur, Belgium. The sisters have had this house since 1809, although it was bombed during WWII and had to undergo some rebuilding. A recent addition to the Mother House is the creation of The Heritage Center, a place that shares the history, expansion, mission and ministry, and the spirituality of the Sisters of Notre Dame de Namur. It is a fascinating space that we had an opportunity to explore several times throughout the pilgrimage. We then journeyed through parts of northern France – Cuvilly where St. Julie was born and raised; Gournay where she went into hiding during the French Revolution; Compiegne where she was moved but still in hiding; Amiens where she met the co-foundress of the order, Francoise Blin de Bourdon, in 1804 and began opening orphanages and schools with the mission of educating girls and poor children; and Saint-Vallery-Sur-Somme where St. Julie was on a mission with the Fathers of Faith (Jesuits). We also had the opportunity to visit Ghent and Antwerp in northern Belgium where the sisters opened more schools. This trip was truly a gift from God and I am so grateful to the sisters who invited me to follow in the footsteps of St. Julie as we celebrate her 50th Anniversary of Canonization.
Some of our students, faculty and staff have also been traveling. MND students and staff partnered with Moeller for our fourth summer service-learning trip to El Salvador. Another group of students and faculty went to tour Italy. We also had a service trip to Liberty, KY and two St. Vincent de Paul Urban plunges. Perhaps you had the opportunity to travel somewhere this summer too. Asking others about their summer travels is a great way to engage in conversation.
We have also been very busy getting ready for the new school year. All the windows have been installed and the new Learning Commons is taking shape. We also gave a facelift to the faculty and visitor restrooms in the Administration wing and are relocating the Tech Room to the second-floor hallway. This work is in addition to all the extra cleaning and waxing that happens when the classrooms are not in use! I would like to extend a big thank you to our maintenance staff who work so hard every day, but especially in the summer months.
There are also many events happening during these summer months. High School Placement Test Preparation Courses are being offered by our faculty this week and next. These courses are open to incoming eighth grade girls to help them get ready for this test that is an admissions requirement for all Catholic high schools in the area. I believe we still have a few openings in the afternoon classes but our two morning classes each week are full. The SND schools in the Ohio, Province – MND, Summit Country Day, Badin and Chaminade Julienne – will be hosting Notre Dame school administrators Tuesday through Thursday this week. Tuesday and Wednesday we will be at the Summit and Thursday we will be at Mount Notre Dame.
Our summer theater production of "Once on this Island" begins Friday this week and will offer shows this weekend and next. The cast and crew are made up of students from area high schools, including 2019 graduates and incoming freshmen. You can purchase tickets online at www.mndhs.org.
We have Freshman Service Day at Green Acres on August 5, Getting the Edge Camp for Freshmen August 12 and 13, and our faculty report for their first In-service Day on August 14. The school year opens with a welcome to our freshmen and transfer students for Orientation Days on August 20 and 21, and the whole school begins classes on August 22.
The Athletic Season kicks off with Fall Sports Tryouts on August 1, Meet the Teams Night on August 7, and game play beginning as soon as August 8. You can go to our webpage for game schedules. Don't forget to sign up for our MND Golf Outing that will be held on August 16 this year. You can visit www.mndhs.org.
I am also busy meeting with people that may want to be major donors to the current campaign for endowment and capital improvements of the Learning Commons and Performing Arts Center. Please contact me if you would like more information.
The summer Developments magazine should be coming to your home soon and the Advancement Annual Report will be coming out in September. Both publications are full of great stories and interesting information about the school. And please stay connected with MND through our webpage, Instagram, Facebook, and Twitter. We have so much good news to share with you!
I look forward to communicating with you the third Monday of each month. As always, you are welcome to contact me for a visit or conversation anytime.
Sincerely,
Judy Back Gerwe '78
President
P.S. I look forward to communicating with you the third Monday of each month. Please let me know if you would like to stop in for a visit. I would love to show you around or talk to you about your experience with MND.