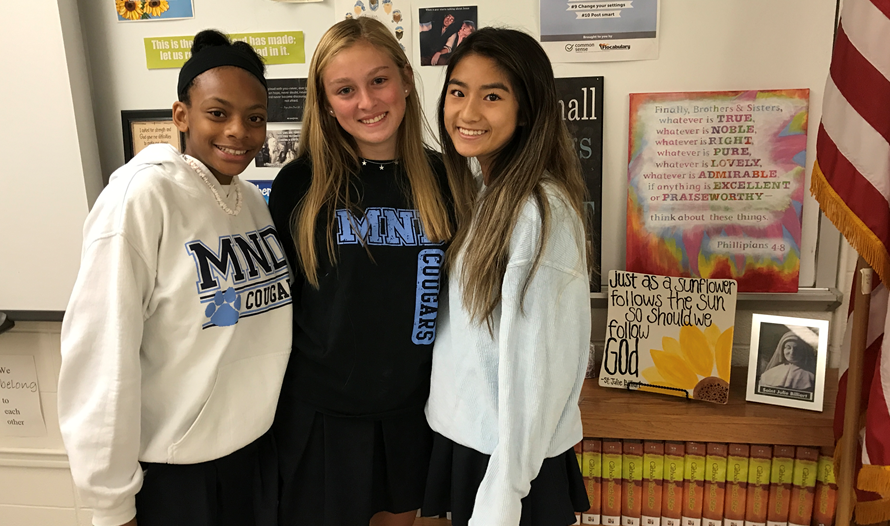 Mount Notre Dame remains strong and resilient thanks, in part, to the support of many benefactors to the Mount Notre Dame Annual Fund. Investments in this fund help us cover annual costs so that we can continue to live out our mission of "educating and empowering young women to learn, live, lead and serve".  The trust our constituents have shown in valuing the mission of MND is greatly appreciated and we assure you that the core values established by the Sisters of Notre Dame de Namur in 1860 are just as important today as they were over 160 years ago.
Each year Mount Notre Dame asks our alumnae, parents, faculty/staff and friends to invest in our mission with a gift to the Mount Notre Dame Annual Fund. No matter the amount of the gift, your investment enables current students to receive an education that will serve them for a lifetime. You can be assured that your investment is paying rich dividends in the lives of these young women now and in the future.
For more information about the Annual Fund and how you can help, please contact Mrs. Cheri Lehrter at 513-821-3044 ext. 106 or clehrter@mndhs.org.
Your credit card information will be transmitted through a secure connection through Blackbaud. Visit www.mndhs.org/security for more details.
Matching Gift Program
Double or triple your investment! CLICK HERE to see if your company may provide matching gifts. If they do, please mail your company's matching gift form c/o Mount Notre Dame, 711 East Columbia Avenue, Cincinnati, Ohio 45215 or email jgallo@mndhs.org.
President's Circle
Membership in the President's Circle is acquired with an investment of $1000 or more.  CLICK HERE to learn more.