Mount Notre Dame Theatre (MNDT) provides a well-rounded theatrical experience for students interested in both performance and technical theatre. We offer opportunities for students to study acting, singing, dancing, set design/construction, lighting design, sound design, properties design/creation, costume design/creation, stage management, choreography and make-up.
We are an inclusive program, and are always looking to include more students and help teach the students "what they need for life". We encourage student participation regardless of skill level and we offer opportunities for all students to hone their craft.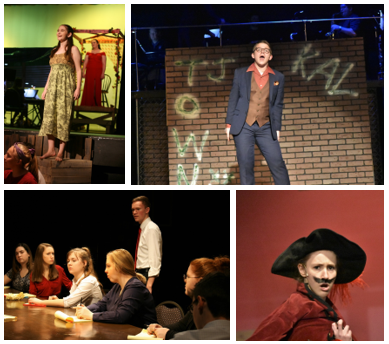 MNDT Faculty Directory
Mr. Kyle Imbronyev
Artistic Director
513.821.3044 ext. 7469 (SHOW)
kimbronyev@mndhs.org
Mr. Joe Beiting
Assistant Director
513.821.3044 ext. 381
Mrs. Elizabeth Venia
Music Director
513.821.3044
evenia@mndhs.org
Mr. Aaron Edge
Technical Director
513.821.3044 ext. 7469
Stay Up-To-Date via Social Media
| | | |
| --- | --- | --- |
| Facebook | Twitter | Instagram |
| facebook.com/mndtheatre | @MNDTheatre | @MNDTheatre |
GENERAL PROGRAM QUESTIONS
My child has never done theatre before can they still participate?
Yes!! We encourage everyone to join the MNDT Family. Whether you are interested in being under the lights or behind the scenes, you are welcome. Experience is not necessary. The only thing we ask you to prepare is a positive attitude and a willingness to work
What if I don't have time?
We are very flexible with the rehearsal schedule for the Actors in our company. Please be sure to list all conflicts on the Audition Form and our staff will do our best to accommodate. For the Technical aspect of our company we have what is called "Build Crew". This gives you just a taste what it is like to be in MNDT, there are specific days that we call "Build Days" and these are completely optional so that you can join and just learn without having to follow the entire schedule.
Can male performers/technicians get involved?
Yes! We work with male performers/technicians from any area high school.
QUESTIONS ABOUT TICKETS
Can I reserve specific seats?
We use festival style seating for our theatre. House doors open 30 minutes prior to curtain time.
Do you take credit cards at the door?
Unfortunately we only accept cash and personal check for tickets at the door.
Where do I get tickets?
You can call Mr. Imbronyev's direct line listed on the MNDT Homepage and leave a voicemail for a ticket reservation. Please listen to the full instructions and remember you will only receive a call if there is a problem filling your request.
How does seating work?
All of MNDT's productions are festival seating. Meaning it is a first come first serve basis. We do have opportunities for a Preferred Membership that will allow you to obtain reserved seating the advanced purchasing of tickets. Please email Mr. Imbronyev for further details.
What is Will Call?
Will Call is the main desk in the lobby on the night of the performance that you can pick your tickets up. All phone reservations will be placed at Will Call.
What do the ratings mean for tickets?
We follow the same guidelines as movie theatre for a rating system to advise our audience of the subject matter in each production. Ex. Rated G, Rated PG, Rated PG-13, etc.. Although most productions are family friendly we try to challenge our students with more advance subject matter and this may mean that some material may not be suited for ALL ages.