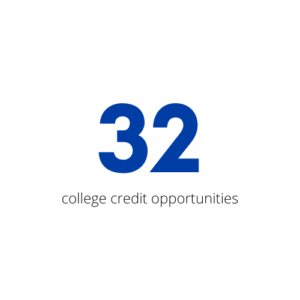 Mount Notre Dame is proud to offer our students 32 opportunities to earn college credit while in high school, including two 200 level courses. Through Ohio's College Credit Plus program or College Board's Advanced Placement courses, students can earn college credits for the courses they take at MND.

College Credit Plus (CCP) is Ohio's system for dual enrollment. College Credit Plus can help students in grades 7 – 12 earn college and high school credits at the same time by taking college courses from community colleges or universities. The purpose of this program is to promote rigorous academic pursuits and to provide a wide variety of option to college-ready students. Taking a college course through College Credit Plus from a public college or university is free, although nonpublic school students must apply for and be awarded funding through the Ohio Department of Education. Each student should work in conjunction with her parents and school counselor to determine if CCP is a good fit for her academic goals.
The process to apply for and participate in CCP courses is lengthy, and there are strict deadlines that each student must follow. While MND will communicate these deadlines, please be aware that the process and deadlines are set by the universities and the State of Ohio.
Major Steps:
Prove your college-readiness for each university
For students to apply to the college/university, they must have appropriate test scores. Students may submit either an ACT/SAT score, or they may take the Accuplacer exam. See each universities website for more information on minimum scores.
Apply to the college/university
Students will need to complete the application for the college/university for which they would like to gain admission. This process is different at each institution, so students should start the process early.
Declare your Intent to Participate and Complete your Funding Application
Students must create an OH|ID account at https://ohid.ohio.gov and then complete the Intent to Participate form and the Funding Application there.
Register for Classes
The state of Ohio will notify parents of any funding awarded by May 6th on their Ohio SAFE account. Families then provide this letter to the appropriate college/university.
2023-2024 CCP Courses offered at Mount Notre Dame
MND Course Name
Partner University
Location
College Course Code
Credit Hours
Foundations of Engineering Design Thinking I
University of Cincinnati Uptown
MND
ENED 1100
3
Anatomy and Physiology
Cincinnati State
MND
BIO 151
BIO 152
4

4

Calculus CCP
Cincinnati State
MND
MAT 215
6
English II CCP
Cincinnati State
MND
ENG 101

ENG 103

3

3

Functions and Mathematical Models CCP

Precalculus CCP

Cincinnati State

MND

MAT 153

6

Rock & Pop Music
Cincinnati State
MND
MUS 115
3
Science Fiction CCP
Cincinnati State
MND
LIT 280
3
Spanish II CCP
Cincinnati State
MND
SPN 102
4
Statistics I and II CCP
Cincinnati State
MND
MAT 131

MAT 132

3

3

US History CCP
Cincinnati State
MND
HST 111

HST 112

3

3
Important Dates
| | |
| --- | --- |
| December 1, 2022 at 6:30 PM | College Credit Plus Information Night at Mount Notre Dame |
| March 15, 2023 | College Application must be completed by the student/family. |
| April 1, 2023 at 5:00 PM | CCP Intent to Participate form and Funding Application due on OH|ID at https://ohid.ohio.gov |


Mount Notre Dame is proud to offer a wide-range of Advanced Placement® courses for the academically advanced student. These courses follow the College Board curriculum and recommendation in order to prepare students for the Advanced Placement tests offered each May. Many colleges award Advanced Placement credit dependent upon testing results. The College Board website gives details regarding the AP Program and research surrounding student achievement.
Benefits of an Advanced Placement Program:
Gain the edge in college preparation
• Get a head start on college-level work
• Improve your writing skills and sharpen your problem-solving techniques
• Develop the study habits necessary for tackling rigorous course work
• Stand out in the college admissions process
Demonstrate your maturity and readiness for college
• Show your willingness to take the most rigorous course work available
• Emphasize your commitment to academic excellence
Broaden your intellectual horizons
• Explore the world from a variety of perspectives
• Study subjects in greater depth and detail
• Assume responsibility of reasoning, analyzing and understanding
Costs:
• AP tests cost approximately $95
• The fee is collected during test registration
AP® and Advanced Placement® are registered trademarks of the College Board. Used with permission.