Step 1: Register Early! The Cougar Cub Book Club is limited to 100 participants.
Step 2: Stop by MND to pick up the free personal copy of this summer's selected book (Short by Holly Goldberg Sloan). There is a drive-through pick-up (MND's front driveway) on Thursday, June 10 (10:00 am – Noon) or the book can be picked up weekdays in the Main Office (8:00 am – Noon).
Step 3: Read the book!
Step 4: Attend the Cougar Cub Book Club Party on Thursday, July 15! This is a fun event featuring book-related activities and discussions led by MND Student Ambassadors, Book Club Members and Faculty.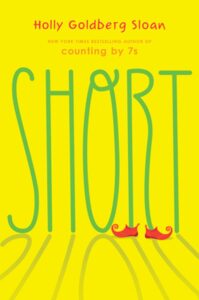 Julia is very short for her age, but by the end of the summer run of The Wizard of Oz, she'll realize how big she is inside, where it counts. She hasn't ever thought of herself as a performer, but when the wonderful director of Oz casts her as a Munchkin, she begins to see herself in a new way. As Julia becomes friendly with the poised and wise Olive – one of the adults with dwarfism who've joined the production's motley crew of Munchkins – and with her deeply artistic neighbor, Mrs. Chang, Julia's own sense of self as an artist grows. Soon, she doesn't want to fade into the background and it's a good thing, because her director has more big plans for Julia!  (Review by Goodreads)
MND took care in selecting this book; however, we encourage parents to decide on the appropriateness of this book for their daughter, and even read along with her!  This book is intended to serve as an opportunity for Cougar Cub Book Club participants to think, discuss, question, explore, and participate in fun book-related activities with other peer readers, led by MND students and MND Book Club moderators.
Please contact Donna Groene, Director of Admissions, at dgroene@mndhs.org or Amy Bonino, English Department Chair at abonino@mndhs.org if you have any questions.