Join the Cougar Cub Book Club!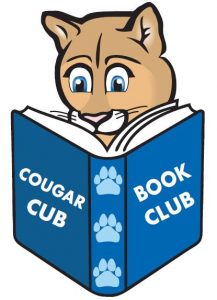 Attention all 5th and 6th grade girls! MND invites you to join the Cougar Cub Book Club!
Each participant will receive her own copy of the book, Bounce, by Megan Shull, to read at home. After reading the book, Cougar Cub Book Club members are invited to MND on Wednesday, December 18, 2019 from 6:30-8:30 PM to join fellow readers in fun activities based on the book and led by members of MND's Student Book Club. Space is limited.
How do I join the club?
1. CLICK HERE to register to join the Cougar Cub Book Club.
2. Stop at MND (7:30 am – 3:45 pm) on MND school days to pick up your copy of Bounce.
3. Enjoy reading Bounce between now and December 18!
4. Mark your calendar to attend the Cougar Cub Book Club Party on Wednesday, December 18 (6:30 – 8:30 pm).

What book are we reading?
The author of The Swap, which is now a Disney Channel Original Movie, delivers another hilarious,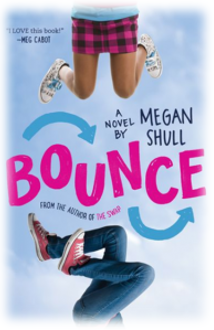 heartwarming, and empowering story about a girl who relives the same day over and over again — each time as someone new. Megan Shull's new novel is perfect for fans of Wendy Mass, Holly Goldberg Sloan, and Meg Cabot.
Seventh grader Frannie Hudson wonders what it would be like to trade in her family for a new one. Her big brother ignores her. Her mean older sister can't stand her. And her parents have just announced they're going on a last-minute vacation—without her.
When Frannie makes one desperate, crazy wish — BOOM! — she magically bounces into a whole new life, with a totally different family. And. It. Is. Amazing! There's only one catch: waking up as someone else keeps happening. Plunged into lives and adventures she's only imagined—from being a pop star to meeting one super-cute boy—Frannie finds courage in the unforgettable friends and families she meets along the way. But as her new life spins out of control, Frannie begins to worry if she'll ever get back home.
A celebration of the power of love and connection, Megan Shull's extraordinary new novel captures one girl's journey to find her voice, heal her heart, and discover the joy of bouncing back.
Source: www.harpercollins.com
Note to Parents:  MND took care in selecting this book; however we encourage parents to decide on the appropriateness of this book for their daughter, and even read along with her!  This book is intended to serve as an opportunity for Cougar Cub Book Club participants to think, discuss, question, explore, and participate in fun book-related activities with other peer readers, led by MND students and MND Book Club moderators. Please contact Donna Groene, Director of Admissions, at dgroene@mndhs.org or Kate Anderson Grimm '06, English Department, at kgrimm@mndhs.org if you have any questions.