Join the Cougar Cub Book Club!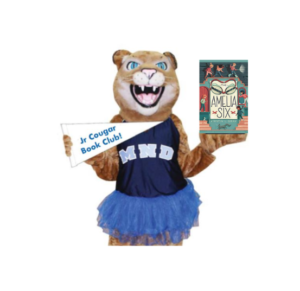 Attention rising 4th and 5th grade girls! MND invites you to join the FREE Cougar Cub Book Club this summer!
♦ Step 1: Registration opens on June 16! The Cougar Cub Book Club is limited to 100 participants.
♦ Step 2: Stop by MND to pick up your free personal copy of this summer's selected book (The Amelia Six by Kristin Gray)! You can pick up anytime during school hours (8:00 a.m. – Noon) starting June 16.
♦ Step 3: Read the book!
♦ Step 4: Attend the Cougar Cub Book Club Party on July 14 at 9:30 a.m.! This is a fun event featuring book-related activities and discussions led by MND Student Ambassadors, Book Club Members and Faculty.

The Amelia Six by Kristin Gray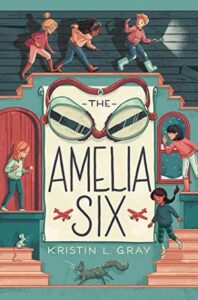 Eleven-year-old Amelia Ashford—Millie to her friends (if she had any, that is)—doesn't realize just how much adventure awaits her when she's given the opportunity of a lifetime: to spend the night in Amelia Earhart's childhood home with five other girls. Make that five strangers. But Millie's mom is a pilot like the famous Amelia, and Millie would love to have something to write to her about…if only she had her address.
Once at Amelia's house in Atchison, Kansas, Millie stumbles upon a display of Amelia's famous flight goggles. She can't believe her good luck, since they're about to be relocated to a fancy museum in Washington, DC. But her luck changes quickly when the goggles disappear, and Millie was the last to see them. Soon, fingers are pointing in all directions, and someone falls strangely ill. Suddenly, a fun night of scavenger hunts and sweets takes a nosedive and the girls aren't sure who to trust. With a blizzard raging outside and a house full of suspects, the girls have no choice but to band together. It's up to the Amelia Six to find the culprit and return the goggles to their rightful place. Or the next body to collapse could be one of theirs.
– From GoodReads
Mount Notre Dame took care in selecting this book; however, we encourage parents/guardians to decide on the appropriateness of this book/author for their daughter.  We encourage parents/guardians to read along! This book is intended to serve as an opportunity for Cougar Cub Book Club participants to think, discuss, question, explore, and participate in fun book-related activities with other peer readers, led by student Ambassadors, MND Book Club members and our Librarian, Mrs. Molly Rauch.
Please contact Donna Groene, Director of Enrollment, at dgroene@mndhs.org, or Nikki Price, Admissions Program Coordinator at nprice@mndhs.org if you have any questions.