Welcome to Mount Notre Dame High School!
I am sure you will find that there are great things happening here! I encourage you to explore our website, come visit our school, and talk to current students and graduates so you can learn more about us.
I am a graduate of MND and am thrilled to be back "home". I am continually amazed at the excellent opportunities that are available for the young women who attend our school – in academic offerings, service opportunities, sports teams, and many clubs and organizations. My responsibility as President is to ensure that the mission and vision of Mount Notre Dame is carried out in all these areas. Please feel free to contact me via phone or e-mail if you ever have a question or concern about this.
We are grateful to be partners with parents in the education and development of the students. It is an honor and a true blessing! Please be assured that we take this opportunity very seriously and will always look out for what is best for the student. I encourage you to stop by and introduce yourself sometime.
Sincerely,
Mrs. Judy Back Gerwe '78
jgerwe@mndhs.org
513.821.3044 x101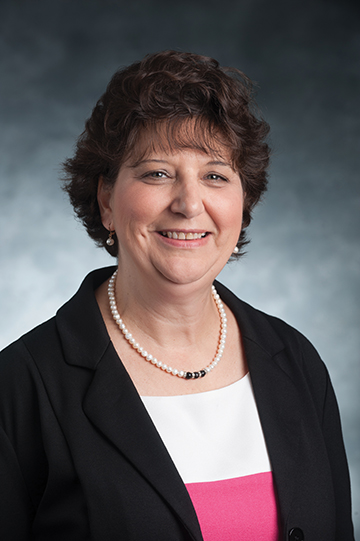 President's Monthly Message – April 2021
Dear Families and Friends of MND,
Alleluia! Happy Easter! Students were reminded at our school liturgy this past week that the season of Easter is the most important of all liturgical times. It encompasses fifty days, beginning on Easter Sunday with the celebration of Jesus' resurrection from the dead and culminating in Pentecost with the sending of the Holy Spirit upon the Church. Easter is characterized by the joy of glorified life and the victory over death.  The student body and staff were invited to "celebrate the irrepressible power of God breaking out with life wherever we least expect it", and I hope you will do the same.
Did you hear that the Performing Arts Center construction is complete? Here are a few pictures of the new space looking out from the stage and looking down from the control booth. It is beautiful! I am happy to share it with you if you want to stop by sometime. There are still opportunities for you to invest in this project at https://www.mndhs.org/theatre-wish-list/.
We have already had the opportunity to use the space for our Lenten Reconciliation Services, grade level gatherings and the junior/senior play of The Complete Works of William Shakespeare. The Grand Opening will take place this weekend with the showing of Shrek: The Musical. Seating is limited due to Covid restrictions, but you may find tickets available at https://mndt.booktix.com/. Good luck to all the performers and crew!
This year's Capstone Event looked a little different, but we were able to have each senior present her project at MND to panelists, family and friends via Zoom. Thanks to all of you who supported these young ladies in this culminating activity of our MAP program and to our MAP Coordinator, Ms. Christine Mencer. We were excited to be able to provide this opportunity, and tradition, for our seniors.
As you know, the end of the school year brings a flurry of activity and we embrace the ability to offer these experiences for our Mount Notre Dame community! We celebrated our last "all school" mass last week with the Juniors and Seniors in person and the freshmen and sophomores virtually and sung the school song together before we dismissed each group for different activities. We will gather again next month for a May Crowning Celebration, and our freshmen and sophomores will participate in their grade level prayer services this Wednesday. Seniors receive their caps and gowns next week and we will celebrate them at the Showcase of Excellence on April 28. They will also have their college signing celebration during lunches on April 30. We are also planning a spring Roo-Ha Celebration with all of the students as well as a Junior/Senior Prom, and all students are preparing for end of year exams.
I hope you heard that MND not only won state in Volleyball this year, but we also won state in Diving and Basketball! It has been quite an unusual year for our athletes with less fans and other COVID restrictions, but they have certainly done an amazing job. We also had twelve seniors participate in our Athletic Signing Ceremony last week. Congratulations to all our MND student athletes and their families!
The week of May 3-7 marks the second annual Girl Schools Unite Competition. MND will be competing with the four other all-girl schools in Cincinnati to see who can garner the most alumnae participation in giving back to their school. If you are an alumna, please make sure that you take some time to invest in our Annual Giving Fund during this week. Also, please share this information if you know an MND alumnae. We are 10,000 strong so you probably do know someone! We will also be promoting investments to the Annual Giving Fund this year from other friends of MND as well, so please help us out if you can. There is no amount too great or too small and we appreciate every gift that we receive to help us live out our mission of educating and empowering young women.
As always, I enjoy communicating with you the third Monday of each month. Please feel free to contact me via phone (821-3044 x126) or e-mail (jgerwe@mndhs.org) if you have any questions or would like to set up a time to meet.
Thanks for all you do to support MND,
Judy Back Gerwe '78
President