Welcome to Mount Notre Dame High School!
I am sure you will find that there are great things happening here! I encourage you to explore our website, come visit our school, and talk to current students and graduates so you can learn more about us.
I am a graduate of MND and am thrilled to be back "home". I am continually amazed at the excellent opportunities that are available for the young women who attend our school – in academic offerings, service opportunities, sports teams, and many clubs and organizations. My responsibility as President is to ensure that the mission and vision of Mount Notre Dame is carried out in all these areas. Please feel free to contact me via phone or e-mail if you ever have a question or concern about this.
We are grateful to be partners with parents in the education and development of the students. It is an honor and a true blessing! Please be assured that we take this opportunity very seriously and will always look out for what is best for the student. I encourage you to stop by and introduce yourself sometime.
Sincerely,
Mrs. Judy Back Gerwe '78
jgerwe@mndhs.org
513.821.3044 x101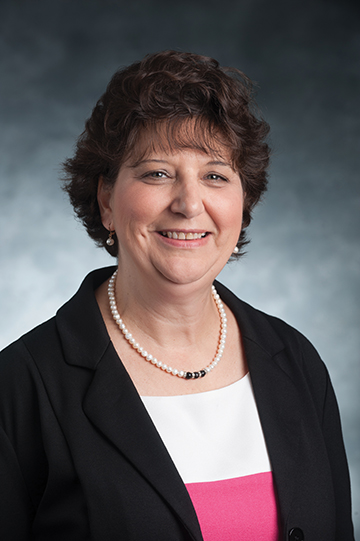 President's Monthly Message – December 2021
Dear Friends of Mount Notre Dame,
Christmas Blessings to each of you! I hope that you have experienced a Holy Advent and are looking forward to celebrating Christmas in just a few days. Prayers for a fun and safe holiday and for an amazing new year in 2022!
Students completed exams last week and all is quiet around here right now. Our faculty members are busy wrapping up the first semester and will hopefully enjoy some well-deserved rest soon! Faculty will return to school on January 5 and the students return on January 6. We also welcome back our 2018 – 2021 alumnae for a College Break In from 9 – 11 am on January 6. If you or someone you know is from one of these classes, there is more information and registration at https://www.mndhs.org/collegebreakin/.
Congratulations to our first group of senior athletes who signed with a college or university to play their sport at the next level! We had our Fall Athletic Signing on November 18 and will hold another one in the spring. You can visit https://www.mndhs.org/fifteen-mnd-student-athletes-sign-to-compete-at-the-collegiate-level/ to read who these young ladies are and where they are going.
It has been a busy season hosting eighth grade girls for shadow days and giving them and their parents a variety of opportunities to learn about all that MND has to offer. Eighth graders took the required High School Placement Test on November 20 and have applied to their schools of choice. We will be preparing over 400 acceptance packages to mail out in January, inviting students to join the Class of 2026! Please pray for all eighth graders and their families as they make their high school choice decision and also pray that our enrollment stays strong. It's not too late if you know of an eighth-grade girl who might be interested in MND. Please direct her to our website or have her call our Admissions Office at 513-821-3044.
You may have heard that we had an amazing Giving Tuesday campaign thanks to great planning by the Advancement Staff and our Marketing Team and, most importantly, to the many of you who invested on this global day of giving. Over $120,000 was raised to help us meet our Annual Fund goal. I hope you will also think of us as you plan your year-end giving. I sent out a message late last week announcing that we will not be having a Gala this year and we will need your support to make up for the revenue lost from that event. Investments can be made at https://www.mndhs.org/support-mnd/ or you can call us at 513-821-3044 x106. I am also happy to speak with you about starting a scholarship or sponsoring the school in some other way. We appreciate the generous financial support of our benefactors to help us provide the necessary resources to advance our mission of educating and empowering young women to recognize and develop their unique capabilities to learn, live, lead and serve.
It was wonderful to gather as a school community for a very meaningful Thanksgiving Prayer Service and to come back together on December 8 to celebrate the Feast of the Immaculate Conception. Our celebrant for mass was Fr. Bob Obermeyer. Fr. Obermeyer has not been with us for an all-school mass since Covid began so we were so happy to welcome him back. We took the opportunity to celebrate his 60 years of Ordination that he achieved last spring. MND gifted Fr. O with a book of photographs over his many years at MND and notes from the faculty and staff. We also had an opportunity to celebrate the Christmas season together with a Christmas Concert featuring our MND choirs and the Moeller/MND Band.
We had over one hundred alumnae gather for the Alumnae Christmas Cocktails Party on December 2. The halls were alive with alumnae chatting about their time at MND and taking in the physical changes of the building since they were here. We also hosted the first home basketball game of the year against Ursuline that evening and several of our alumnae peaked in the gym to watch our students play!
Looking ahead, a group of MND students and staff will attend the annual March for Life in Washington, DC on January 21, our MND Dance Teams will showcase their talent on January 30 at MND, and our theater students will continue their preparations for The Diary of Anne Frank that will be presented in the Performing Arts Center February 4th through the 6th.
I look forward to communicating with you the third Monday of each month to keep you up to date on all the exciting things happening at MND. In the meantime, please visit our webpage and look for us on Facebook, Twitter and Instagram.
Wishing you a Holy and Safe Christmas Season,
Judy Back Gerwe '78
President