Welcome to Mount Notre Dame High School!
I am sure you will find that there are great things happening here! I encourage you to explore our website, come visit our school, and talk to current students and graduates so you can learn more about us.
I am a graduate of MND and am thrilled to be back "home". I am continually amazed at the excellent opportunities that are available for the young women who attend our school – in academic offerings, service opportunities, sports teams, and many clubs and organizations. My responsibility as President is to ensure that the mission and vision of Mount Notre Dame is carried out in all these areas. Please feel free to contact me via phone or e-mail if you ever have a question or concern about this.
We are grateful to be partners with parents in the education and development of the students. It is an honor and a true blessing! Please be assured that we take this opportunity very seriously and will always look out for what is best for the student. I encourage you to stop by and introduce yourself sometime.
Sincerely,
Mrs. Judy Back Gerwe '78
jgerwe@mndhs.org
513.821.3044 x101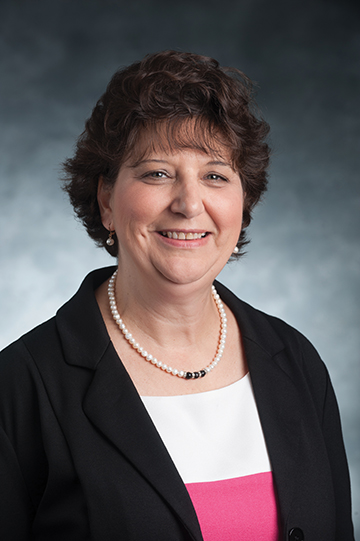 President's Monthly Message – October 2021
Dear MND Families and Friends,
Happy October! It seems we are finally having some fall weather to go along with the season. I hope you and your family make time to enjoy these crisp evenings together and to marvel at God's beauty as the leaves begin to change. Fall is my favorite time of year!
Our Admissions Office has been very busy as we gear up to welcome a new group of students to MND – the Class of 2026! We have been welcoming 8th grade students who come to spend the day with us, hosted two Information Nights, distributed Open House signs, and MND billboards are up. We are also preparing for our Open House on Nov. 7 from 1 – 5 pm. Families are encouraged to sign up for a tour time on our website, but we also welcome walk-ins. Please share the value of an MND education with everyone you know who has a daughter in junior high and encourage them to visit our website or call the school to learn more. A personal witness and invitation are our best marketing tools! Thanks for your help in keeping our enrollment strong.
It is also important to nurture our current students and families. Parents and guardians of new students were invited to the President's Welcome, an evening to learn about the many programs we offer to help with academic, spiritual and personal development and to better understand the President-Principal Model and the role of Advancement in a Catholic high school. Sophomore parents and guardians were also invited to a meeting to learn about happenings at this level and looking ahead. We also hosted an amazing College Week that culminated in a College Fair with representatives from many colleges and universities setting up tables in the gym for every student to visit during their extended lunch period.
Our C Days, typically on Wednesdays, have also provided students opportunities to learn about the Service program and then attend a service fair, celebrate Roo-Ha, participate in Common Read programs and spend time with their communities. We were also able to host the Freshman Retreat on campus while all other students participated in Lifelong Learning Modules from home. Last week the freshmen, sophomores and juniors engaged in fall testing while the seniors had a day to visit universities. This Wednesday students have a Fall Break Day and parents will attend conferences with their daughter's teachers.
We are excited to be able to offer extended activities for our students as well. The retreat program is going well as we host seniors for Kairos and Ropes, and juniors for their overnight retreats. There is also a group of students going to Liberty, KY for a service trip later this week. Please pray for the safety of these students as they travel and for a blessed experience as they learn more about God, themselves and others.
MND Athletics are going strong! Our Varsity Volleyball team just returned from the first ever ESPN High School Girls' Volleyball Invitational that only included four of the best teams in the nation! It was quite an honor for our school and the players as they represented MND well. Fall sports are coming to an end and we have enjoyed the many spectators that have come out to watch our girls play. We invite you to keep an eye out for announcements about tournament play and to make plans to cheer our teams to victory!
As we approach November 2, All Souls Day, please know that you and your families are in our daily prayers and we support you in the loss of loved ones. Students and staff will be invited to write the names of their deceased loved ones, especially those who have passed away in the past year, in our Book of the Dead. This book will be in the chapel throughout the month of November as we hold these names in special prayer during this time.
The Advancement Office will be hosting two events where families who have set up scholarships are able to meet the student or students that are benefiting from their investment. These will both be happening on November 10 and the students will be learning remotely so that we can have our many visitors in the building. The number of scholarships continues to grow, requiring us to split the group into two different sessions. We are delighted to welcome our benefactors to these events and are so grateful for their investment in our students. You can view the names of all our scholarships on our Endowment Wall in the foyer. If you are interested in learning more about how to set up a scholarship, please contact me so that we can discuss the process. Most scholarships are awarded to help with financial assistance to our families. All families should have received information about the Annual Fund in the mail. Please prayerfully consider an investment in our students. No gift is too small and our goal of $560,000 is money used to support many programs we offer every student in the areas of academics, arts, athletics, campus ministry, counseling services, facilities, and theater. You can make your investment online at https://www.mndhs.org/annualfunddonation/.
Preparations are underway for MNDT Fall Show Young Frankenstein. The show runs from November 12-14 and November 18 – 20 in the new Performing Arts Center. You can purchase tickets at https://www.mndhs.org/mndt-current-show/.
I encourage you to stay connected with MND through my monthly messages as well as through our website and social media platforms (Facebook, Twitter and Instagram). If you are an alumna and do not receive alumna updates, please contact Jen at jvonderbrink@mndhs.org with your current contact information. And I always welcome conversation with any of you. I can be reached at 513-821-3044 x126.
Blessings on a Fantastic Fall,
Judy Back Gerwe '78
President