Welcome to Mount Notre Dame High School!
I am sure you will find that there are great things happening here! I encourage you to explore our website, come visit our school, and talk to current students and graduates so you can learn more about us.
I am a graduate of MND and am thrilled to be back "home". I am continually amazed at the excellent opportunities that are available for the young women who attend our school – in academic offerings, service opportunities, sports teams, and many clubs and organizations. My responsibility as President is to ensure that the mission and vision of Mount Notre Dame is carried out in all these areas. Please feel free to contact me via phone or e-mail if you ever have a question or concern about this.
We are grateful to be partners with parents in the education and development of the students. It is an honor and a true blessing! Please be assured that we take this opportunity very seriously and will always look out for what is best for the student. I encourage you to stop by and introduce yourself sometime.
Sincerely,
Mrs. Judy Back Gerwe '78
jgerwe@mndhs.org
513.821.3044 x101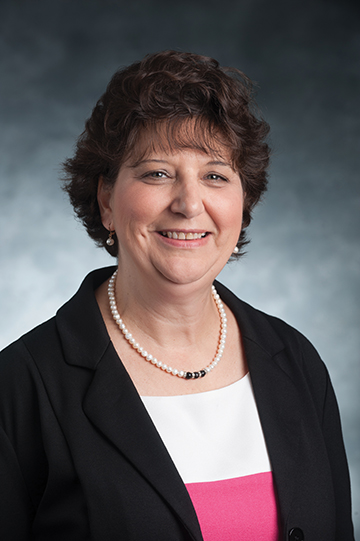 President's Monthly Message – June 2022
Dear Friends of Mount Notre Dame,
Happy Summer! Although it doesn't officially begin until tomorrow, June 21, we sure wouldn't know it by the weather. It seems we went from spring to the heat of summer in the blink of an eye. I hope that the time passes a little slower for our families so that our students can enjoy some time away from school and all can enjoy some time together. Happy Father's Day to all our MND dads and granddads, past and present!
Summer is actually a very busy time at Mount Notre Dame. We have a plethora of summer camps that draw almost 1000 participants and include opportunities in theater, sports, painting to printmaking, color guard, summer music experience, dance and show choir. We also have the Cougar Cub Book Club for 5th and 6th grade girls, the Junior Cougar Book Club for 7th and 8th grade girls and the HSPT Prep Camps for rising eight graders. Please go to www.mndhs.org/summer-camps-2022 to learn more and to see if there are any openings available if you are interested.
The newest members of the MND Sisterhood – the Class of 2026 – were welcomed with a Spirit Day on June 10. These young ladies are also meeting individually with their parents/guardians and a MAP guide to learn more about their high school journey. They have another opportunity to get to know one another on August 11 for their first Service Day experience with MND. Our freshman class is currently over 180 students strong!
We also have several summer activities that involve our students including the production of The Wizard of Oz on July 29 – 31 and August 4 – 6 (tickets can be purchased at https://www.mndhs.org/mndt-current-show/), the Common App Workshop for our seniors, Leadership Camp and "Getting the Edge" Camp for our new freshmen, and conditioning for our student athletes. Information on these events can be found on our website and in the student BAND messages. Students in leadership roles will be in and out preparing for the new school year. Some of these leaders are gathering in Boston at Emmanuel College this week with other student leaders of Notre Dame schools across the nation for a Notre Dame Student Leadership Conference.
Not only is it a busy time for camps and other activities, we are hard at work preparing for the upcoming school year! Summer facility projects include cleaning and waxing, some office changes and renovations, new carpet in the College and Career Center and hopefully in the front office area, painting, and parking lot repair.
The administration is busy preparing for opening faculty and staff days, new student orientation and the first day of school. The Alumnae Office will be offering a special Legacy Breakfast to our freshmen moms who are MND Alumnae on August 18 and our seniors will celebrate the start of their final year with a Senior Lunch on August 21. We are also hoping to have a Parent Welcome Evening in August (stay tuned for more information).
Summer also affords us the opportunity to attend some conferences. Karen Day, Ben Hunt, Jeff Fulmer and I will be participating in a Notre Dame Administrators Conference near Boston at the end of this month. This conference is sponsored by the Sisters of Notre Dame de Namur and includes leaders from Notre Dame schools across the nation. Donna Groene and I will be attending a conference in July to learn more about the 21st Century Model of Advancement put on by ISM (Independent School Management).
We were excited to celebrate some very special alumnae this month. Two Golden Guild Inductions and Luncheons happened at MND on June 3 – The Class of 1972 and the Class of 1971 (postponed due to COVID). We also welcomed back our 5-year (Cougar), 10-year (Sunflower) and 25-year (Sterling) alumnae this past weekend with an induction and reception at MND. Look for pictures of these events in our summer edition of Developments due out later this summer!
We are nearing the end of our fiscal year (June 30) and are still in need of some investments in the Annual Fund to help with our operating budget. Thanks to the many who have invested in Mount Notre Dame – it takes a village to support a school! If you have not yet had the opportunity to invest, please consider doing so at www.mndhs.org/support-mnd/mnd-annual-fund/. Your gift helps offset the expenses that are not covered by tuition dollars.
As always, I look forward to communicating with you the third Monday of each month. You are welcome to contact me at 821-3044 x101 or at jgerwe@mndhs.org for a visit or conversation anytime. And please stay connected with MND through our webpage and Instagram, Facebook and Twitter accounts. We have so much good news to share with you!
Judy Back Gerwe '78
President