Welcome to Mount Notre Dame High School!
I am sure you will find that there are great things happening here! I encourage you to explore our website, come visit our school, and talk to current students and graduates so you can learn more about us.
I am a graduate of MND and am thrilled to be back "home". I am continually amazed at the excellent opportunities that are available for the young women who attend our school – in academic offerings, service opportunities, sports teams, and many clubs and organizations. My responsibility as President is to ensure that the mission and vision of Mount Notre Dame is carried out in all these areas. Please feel free to contact me via phone or e-mail if you ever have a question or concern about this.
We are grateful to be partners with parents in the education and development of the students. It is an honor and a true blessing! Please be assured that we take this opportunity very seriously and will always look out for what is best for the student. I encourage you to stop by and introduce yourself sometime.
Sincerely,
Mrs. Judy Back Gerwe '78
jgerwe@mndhs.org
513.821.3044 x101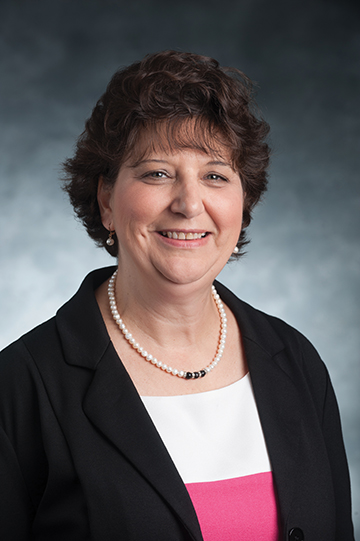 President's Monthly Message – July 2021
Dear MND Families and Friends,
I hope you are enjoying your summer and that you are "reconnecting" after our many months of COVID restrictions. I have had the opportunity to do a little bit of traveling and catching up with family and friends and hope the same is true for you. We continue to pray for the health and safety of our community amidst this pandemic.
As you can imagine, we have been busy getting ready for the new school year. The summer is going by so quickly and there is much to do. Summer facility projects include replacement of the gym roof, painting and new lights in the cafeteria hallway, new flooring in the Performing Arts foyer and restrooms, and a new patio outside the cafeteria doors. We are also cleaning the school from top to bottom and preparing schedules and classrooms. Welcome to our new Assistant Principal for Student Development, Mr. Jeff Fulmer who is spending his summer getting acclimated to Mount Notre Dame!
Our summer camp programs are winding down and we are very grateful to all those who entrusted their children in our care through a variety of sports and special interest camps. Next week we will be offering some sports and dance camps as well as our High School Placement Test (HSPT) Prep camp. The HSPT Prep camp will also be offered the first week of August, along with a Programming camp. We may still have a few spots open if you want to visit www.mndhs.org for additional information.
Current student athletes are conditioning and will be participating in tryouts soon. Please pray for their success! A Meet the Teams Night will take place on August 10 for the Fall athletes. We also had the privilege of celebrating two alumnae athletes – Olympic Volleyball Bronze Medal winner Rachael Adams '08 who has been training here at MND the past couple of weeks with Carly Hendrickson '22 who has been invited to train with the USA U19 Team; and Rose Lavelle '13, a member of the US Women's National Soccer Team who will be competing in the Olympics this month in Japan. Students are invited to stay overnight at MND on July 20 to watch the first game at 4:30 am our time on July 21. There is a sign up for this event so students should check their e-mail and BAND if they are interested.
We also have several summer activities that involve our students including the production of Children of Eden on July 23 -25 and July 29 – 31, Common App Workshop for our seniors, Leadership Camp and "Getting the Edge" Camp for our new freshmen and a Leadership Retreat for our appointed student leaders. Information on these events can be found on our website and in the student BAND messages. The summer show will be held in our amazing new Performing Arts Center and tickets can be purchased at https://www.mndhs.org/mndt-current-show/. We hope you can join us!
Our new Freshman Class of 2025 now includes 170 students who are all invited to attend the Freshman Service Day scheduled for August 12 at Gorman Farm. We have been meeting these young ladies and their parents/guardians at their introductory MAP meeting and will also see them at one of the Tablet Pickup and Training sessions. New student orientation, which includes freshmen and transfer students, is scheduled for August 19 and 20 and our first day of school with all 733 students is on August 23. The Alumnae Office will be offering a special Legacy Breakfast to our freshmen moms who are MND Alumnae on August 19 and our seniors will celebrate the start of their final year with a Senior Lunch on August 22.
We were able to welcome back our 10-year (Sunflower) and 25-year (Sterling) alumnae last month with a cocktail party celebration at the school and will be celebrating our 50 year (Golden Guild) alumnae on August 13. We had to catch up on the missing celebrations due to COVID so this year we will be celebrating the Class of 1970. The Class of 1971 decided to wait until next June and will celebrate with the Class of 1972. We are proud to have these ladies come back home to MND!
Our Golf Classic is back again this year and will take place on August 13. Please try to get a team together and register at https://www.mndhs.org/golf-classic/. Although I won't be golfing, I look forward to joining the golfers for dinner and hope to see you there!
The summer Developments magazine should be coming to your home soon and the Advancement Annual Report will be coming out in September. Both publications are full of great stories and interesting information about the school so I hope you take the time to read them. And please stay connected with MND through our webpage and Instagram, Facebook and Twitter accounts. We have so much good news to share with you!
I look forward to communicating with you the third Monday of each month. As always, you are welcome to contact me for a visit or conversation anytime. I can be reached at 821-3044 x101 or at jgerwe@mndhs.org.
Sincerely,
Judy Back Gerwe '78
President