Welcome to Mount Notre Dame High School!
I am sure you will find that there are great things happening here! I encourage you to explore our website, come visit our school, and talk to current students and graduates so you can learn more about us.
I am a graduate of MND and am thrilled to be back "home". I am continually amazed at the excellent opportunities that are available for the young women who attend our school – in academic offerings, service opportunities, sports teams, and many clubs and organizations. My responsibility as President is to ensure that the mission and vision of Mount Notre Dame is carried out in all these areas. Please feel free to contact me via phone or e-mail if you ever have a question or concern about this.
We are grateful to be partners with parents in the education and development of the students. It is an honor and a true blessing! Please be assured that we take this opportunity very seriously and will always look out for what is best for the student. I encourage you to stop by and introduce yourself sometime.
Sincerely,
Mrs. Judy Back Gerwe '78
jgerwe@mndhs.org
513.821.3044 x101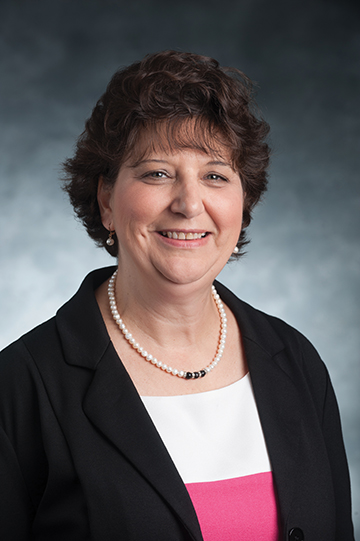 President's Monthly Message – February 2021
Dear Families and Friends of MND,
I hope you are surviving this crazy blast of snow we are experiencing in our area and that you are staying warm and healthy. My prayer for you as we enter the season of Lent is that you join the many hardships you and your family have endured over this past year with Jesus' suffering and allow Him to help you push through. "Come to me, all you who are weary and burdened, and I will give you rest. Take my yoke upon you and learn from me, for I am gentle and humble of heart; and you will find rest. For my yoke is easy, and my burden is light." – Mt 11:28-30
Our Registration Day for the Class of 2025 was held on January 27 and we have almost 160 girls registered so far! We are very pleased with the number of young ladies who are choosing a Mount Notre Dame education and are excited that our enrollment continues to grow. Welcome to all of our new students and their families! We are so happy to have you join the MND Community. We are still accepting students for the freshman class and applications for transfer students, so please let any interested families know that they can contact us for additional information.
We also were able to provide several experiences for our incoming and current students since I last wrote – a full return to classes with all of our students, a virtual Billiart Evening to recognize current 8th graders who qualified for our Billiart Honors Program, a meaningful Inauguration Day virtual Prayer Service, a "Walk the Halls" celebration of our State Championship Volleyball Team, a Poetry Out Loud Competition, and a fun celebration of Catholic Schools Week that included a special liturgy to help us remember why we value the Catholic education that is offered at our school.
Annual retreats are important opportunities provided to every grade level and to our faculty and staff. The Faculty/Staff Retreat was this past Friday and our focus was on Hallmark #6 – We create community among those with whom we work and with those whom we serve. The sophomores will experience their retreat on February 25 and 26 with the same focus. Junior and senior overnight retreats at Bergamo are happening throughout the school year and the freshmen had the opportunity to pray, reflect and get to know each other better earlier in the school year. Thanks to our amazing Campus Ministry Staff for all their work in providing these meaningful days for all of us!
Current students and incoming freshmen are currently scheduling classes for next year and will have an opportunity for a virtual or in-person conference to discuss their class recommendations with administration, teachers and/or counselors so that each student can feel she is in the right class at the right level for her to be most successful. Part of our mission statement reads "…to recognize and develop their unique capabilities…" and we understand that every student has her own strengths and growth areas. Scheduling is an exciting time for the students and I applaud our faculty and administration for providing so many different course options for them to learn and grow.
As the winter sports season enters tournament play, we applaud our undefeated Basketball team and wish all of our winter athletes good luck as they advance in their sport – swimming, diving, bowling and basketball. Follow us on Facebook, Instagram and Twitter to remain updated on how the teams are doing.
We are also looking forward to two other big events at MND – the annual Gala which will be held virtually on March 5 and the opening of the new Performing Arts Center! Attendance at the Gala is free this year and the virtual production will be less than an hour in length so we are hoping that many people will join us for this important event. We are also excited that so many out-of-town supporters of MND will have the opportunity to join us this year. You can learn more about the event and register at  https://one.bidpal.net/mndgala/welcome. I hope to "see" you there! We are also having some Auction Preview Days on February 26 from 5 – 7 pm and February 27 from 11am to 6 pm at MND if you are interested in stopping by.
The new Performing Arts Center is near completion! We will have a "soft" opening with the production of The Complete Works of William Shakespeare at the end of March and the Grand Opening with Shrek, The Musical at the end of April. Check out https://www.mndhs.org/student-life/mndt-theatre-program/ for more information. We are still looking for investments to help offset the cost of the new space so please contact me at 513-821-3044 x126 if you would like to discuss how you can be a part of this amazing project. You can also go to https://www.mndhs.org/theatre-wish-list/.
As always, I look forward to communicating with you the third Monday of each month through this message. Please don't hesitate to give me a call at the number above or send me an e-mail (jgerwe@mndhs.org) if you have any questions or would like to share your experiences with MND.
Wishing you grace and blessings of God's Goodness today and every day,
Judy Back Gerwe '78
President