MND Golf Classic 2020
We are saddened to inform you that the Mount Notre Dame Golf Classic scheduled for Friday, August 14, 2020 has been cancelled.  We look forward to you joining us next year for the 2021 Golf Classic which will be scheduled in August 2021.
We will be holding a Split the Pot in place of the originally scheduled Ball Drop.  If you have already turned in tickets for the Ball Drop, you will automatically be in the Split the Pot.  If you still have ball drop tickets at home, please drop them off at MND or mail them to the Athletic Department (711 E. Columbia Avenue, Cincinnati, Ohio 45215).  Only Winter Athletes paid for Ball Drop tickets for the 2020 Golf Classic.  School office hours are 8am-Noon.
From now until August 12, 2020 tickets for the Split the Pot can be purchased.  Tickets are $5 each or 5 for $20.  This is a great way to support MND Athletics while giving yourself a chance to win some cash.
CLICK HERE to purchase your Split the Pot tickets.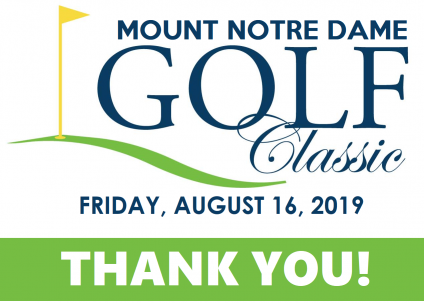 A Special Thank You to the
2019 Mount Notre Dame Golf Classic Sponsors!
Amy Brenner M.D. & Associates ♦ Beacon Orthopaedics ♦ Bill Spade Heating, Cooling and Electric
Diversified Steel Trading, Inc. ♦ Emerald Lawn and Turf Care ♦ Flynn & Company, Inc.
Game On! Fitness ♦ Halpin Plumbing Inc. ♦ Harig Electric, LLC ♦ Judy & Ken Gerwe
KDM Pop Solutions Group ♦ Kelly Kaiser '02 ♦ Lefke Tree Experts ♦ Lemmerman Periodontics
Mt. Washington Motors ♦ Napier Truck Driving Training, Inc. ♦ Planes Moving & Storage
Quality Sports ♦ Rick & Tara Jones ♦ Robert M. Wolterman M.D. ♦ Rose and Bill Eckoff
Select Window ♦ Sharonville Convention Center ♦ Simply Grand Café and Catering
Skyline Chili – Kenwood ♦ Stillpoint Center ♦ The Coffey Family
Tri-State Coatings & Repair, LLC ♦ Vonderhaar's Market & Catering