A Journey to Success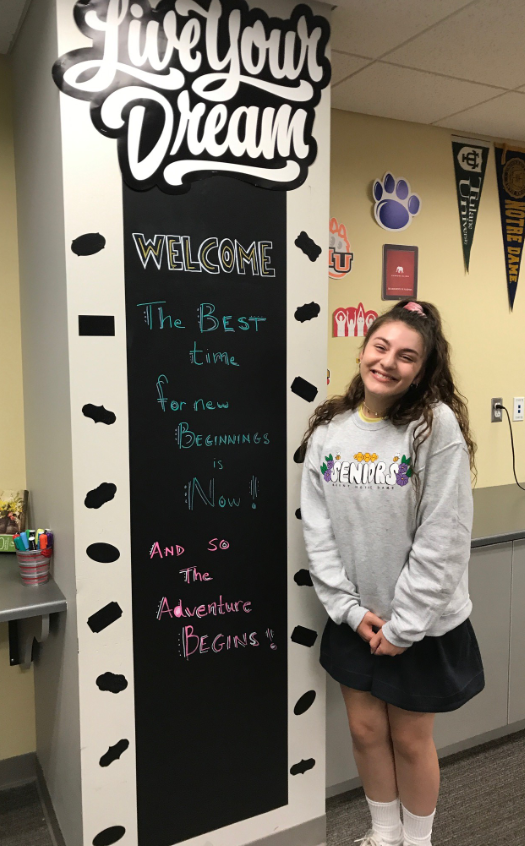 The Road to College is a partnership between MND, our students and our parents that begins on the first day of a student's freshman year. MND's systematic, yet personalized approach ensures that each student arrives at the best destination for her.
Each student will receive a Road to College Planning Guide freshman year, followed by a Road to College Resource Guide sophomore year. This Resource Guide contains a wealth of information designed to help navigate the college search and to understand the admissions and financial aid process. How to Begin the College Search Process, Career Exploration, ACT and SAT Preparation, Financial Aid and How to Apply to College are just a few of the topics in the twelve section guide that offer valuable information and help guide you in your planning. Your daughter's Guidance Counselor will reference the Road to College Resource Guide and work through its contents with your daughter during individual and group meetings beginning the sophomore year and carrying through her senior year.
The Road to College will look different for each student, and it is our mission to help our students prepare to take their next steps in life.
• $16.7 Million was awarded to the Class of 2020 for merit-based college scholarships.
• 96.1% of MND graduates pursue higher education.
• 95 graduates and current students were recognized as 2020 Advanced Placement Scholars.
The Guidance Department welcomed 85 college representatives to MND last Fall
College Representative Visits for the 2019-2020 School Year
American University
Art Academy of Cincinnati
Ashland University
Baldwin Wallace University
Ball State University
Bellarmine University
Bowling Green State University
Butler University
Case Western Reserve University
Centre College
Cincinnati State Technical & Community College
DePaul University
DePauw University
Earlham College
Fashion Institute of Design & Merchandising – LA
Florida Southern College
Furman University
Gannon University
George Mason University
Georgetown College
GROOVE U
Hanover College
High Point University
Hillsdale College
Holy Cross College
Indiana University
Indiana University-Purdue University – Indianapolis
Jacksonville University
Kent State University
Kenyon College
Lynn University
Marian University
Maryville College
Mercyhurst University
Miami University
Miami University Regionals
Mount St. Joseph University
Northern Kentucky University
Nova Southeastern University
Ohio Dominican University
Ohio National Guard
Ohio Northern University
The Ohio State University
Ohio University
Ohio Wesleyan University
Otterbein University
Palm Beach Atlantic University
Providence College
Purdue Polytech Institute
Saint Joseph's University
Saint Louis University
Saint Mary's College
Saint Michael's College
Salve Regina University
Sarah Lawrence College
Savannah College of Art & Design
Sewanee – The University of the South
Shawnee State University
Spring Hill College
St. Bonaventure University
Transylvania University
United States Army
University of Alabama
University of Alabama in Huntsville
University of Cincinnati
University of Cincinnati Blue Ash
University of Dayton
University of Evansville
University of Kentucky
University of Louisville
University of South Alabama
University of South Carolina
University of Tampa
University of Toledo
Ursuline College
Valparaiso University
Vanderbilt University
Villanova University
Walsh University
Washington & Jefferson College
West Virginia University
Wittenberg University
Wright State University
Xavier University
| | |
| --- | --- |
| STATE | COLLEGE |
| AL | Alabama State University |
| MI | Alma College |
| DC | American University |
| IN | Anderson University |
| SC | Anderson University |
| OH | Antioch College |
| NC | Appalachian State University |
| PA | Arcadia University |
| AZ | Arizona State University |
| KY | Asbury University |
| AL | Auburn University |
| IL | Augustana College |
| TN | Austin Peay State University |
| VA | Averett University |
| OH | Baldwin Wallace University |
| IN | Ball State University |
| TX | Baylor University |
| KY | Bellarmine University |
| NC | Belmont Abbey College |
| TN | Belmont University |
| KS | Benedictine College |
| OH | Bowling Green State University |
| IN | Butler University |
| NC | Campbell University |
| OH | Capital University |
| TN | Carson-Newman University |
| OH | Case Western Reserve University |
| DC | Catholic University of America |
| OH | Cedarville University |
| MI | Central Michigan University |
| OH | Central State University |
| KY | Centre College |
| OH | Christ College of Nursing and Health Sciences |
| OH | Cincinnati Christian University |
| OH | Cincinnati State Community and Technical College |
| GA | Clark Atlanta University |
| SC | Clemson University |
| OH | Cleveland State University |
| SC | Coastal Carolina University |
| SC | College of Charleston |
| NY | College of Saint Rose |
| MN | College of St. Benedict |
| OH | College of Wooster |
| CO | Colorado School of Mines |
| CO | Colorado State University |
| MO | Columbia College |
| SC | Converse College |
| NY | Cornell University |
| NE | Creighton University |
| NY | Culinary Institute of America |
| NH | Dartmouth College |
| MA | Dean College |
| OH | Denison University |
| IL | DePaul University |
| IN | DePauw University |
| LA | Dillard University |
| IL | Dominican University |
| NJ | Drew University |
| PA | Drexel University |
| NC | Duke University |
| PA | Duquesne University |
| IN | Earlham College |
| NC | East Carolina University |
| KY | Eastern Kentucky University |
| MI | Eastern Michigan University |
| MA | Emmanuel College |
| GA | Emory University |
| IN | Evansville University |
| FL | Flagler College |
| FL | Florida Atlantic University |
| FL | Florida Gulf Coast University |
| FL | Florida Institute of Technology |
| FL | Florida International University |
| FL | Florida Southern College |
| FL | Florida State University |
| NY | Fordham University |
| OH | Franciscan University of Steubenville |
| IN | Franklin College |
| SC | Furman University |
| PA | Gannon University |
| VA | George Mason University |
| DC | George Washington University |
| KY | Georgetown College |
| GA | Georgia Institute of Technology |
| OH | Good Samaritan College of Nursing and Health Science |
| IN | Goshen College |
| VA | Hampton University |
| IN | Hanover College |
| AR | Harding University |
| NC | High Point University |
| MI | Hillsdale College |
| NY | Hofstra University |
| MA | Holy Cross University |
| DC | Howard University |
| IN | Indiana Institute of Technology |
| IN | Indiana State University |
| IN | Indiana University |
| IN | Indiana University-Purdue University – Fort Wayne |
| IN | Indiana University-Purdue University – Indianapolis |
| IN | Indiana Wesleyan University |
| IA | Iowa State University |
| NY | Ithaca College |
| FL | Jacksonville University |
| OH | John Carroll University |
| NY | John Jay College of Criminal Justice |
| MD | Johns Hopkins University |
| RI | Johnson and Wales University |
| OH | Kent State University |
| KY | Kentucky State University |
| OH | Lake Erie College |
| IL | Lake Forest College |
| SC | Lander University |
| MI | Lawrence Technological University |
| NY | Le Moyne College |
| TN | Lee University |
| VA | Liberty University |
| MO | Lindenwood University |
| NY | Long Island University |
| VA | Longwood University |
| IL | Loyola University – Chicago |
| IN | Marian University |
| OH | Marietta College |
| WI | Marquette University |
| WV | Marshall University |
| NY | Marymount Manhattan College |
| NY | Medaille College |
| GA | Mercer University |
| OH | Miami University |
| OH | Miami University – Hamilton |
| OH | Miami University – Middletown |
| MI | Michigan State University |
| TN | Middle Tennessee State University |
| IL | Millikin University |
| WI | Milwaukee Institute of Art and Design |
| NY | Molloy College |
| NJ | Montclair State University |
| MA | Montserrat College of Art |
| KY | Morehead State University |
| OH | Mount St. Joseph University |
| KY | Murray State University |
| NY | New York University |
| UK | Newcastle University |
| NY | Niagra University |
| NC | North Carolina A&T State University |
| NC | North Carolina State University |
| MA | Northeastern University |
| KY | Northern Kentucky University |
| IL | Northwestern University |
| OH | Notre Dame College |
| FL | Nova Southeastern University |
| OH | Ohio Dominican University |
| OH | Ohio Northern University |
| OH | Ohio University |
| OH | Ohio University – Southern |
| OH | Ohio Wesleyan University |
| OK | Oklahoma City University |
| OH | Otterbein University |
| NY | Pace University |
| FL | Palm Beach Atlantic University |
| PA | Penn State |
| PA | Point Park University |
| IN | Purdue University |
| IN | Purdue University – Fort Wayne |
| NC | Queen University of Charlotte |
| UK | Queen's University Belfast |
| CT | Quinnipiac University |
| CO | Regis University |
| NY | Rensselaer Polytechnic Institute |
| NJ | Rider University |
| FL | Rollins College |
| IL | Roosevelt University – Chicago |
| IN | Rose-Hulman Institute of Technology |
| NJ | Rutgers University – New Brunswick |
| PA | Saint Joseph's University |
| MO | Saint Louis University |
| IN | Saint Mary's College |
| PA | Saint Vincent College |
| NY | Sarah Lawrence College |
| GA | Savannah College of Art & Design |
| IL | School of the Art Institute of Chicago |
| WA | Seattle University |
| OH | Shawnee State University |
| MO | Shenandoah University |
| MI | Siena Heights University |
| OH | Sinclair College |
| PA | Slippery Rock University |
| IL | Southern Illinois University |
| GA | Spelman University |
| AL | Spring Hill College |
| MN | St. Catherine University |
| NY | St. John's University |
| MO | St. Louis College of Pharmacy |
| NY | State University of New York – Cortland |
| FL | Stetson University |
| NY | SUNY College of Environmental Science & Forestry |
| VA | Sweet Briar College |
| NY | Sycracuse University |
| TN | Tennessee State University |
| TX | Texas Christian University |
| NY | The King's College |
| OH | The Ohio State University |
| OH | The Ohio State University – Lima |
| OH | The Ohio State University – Marion |
| OH | The Ohio State University – Newark |
| KY | Thomas More University |
| OH | Tiffin University |
| KY | Transylvania University |
| MO | Truman State University |
| LA | Tulane University |
| AL | Tuskegee University |
| MD | United States Naval Academy |
| OH | University of Akron |
| AL | University of Alabama |
| AL | University of Alabama – Huntsville |
| AK | University of Alaska – Anchorage |
| UK | University of Bristol |
| CA | University of California – Davis |
| FL | University of Central Florida |
| OH | University of Cincinnati |
| OH | University of Cincinnati – Blue Ash College |
| OH | University of Cincinnati – Clermont |
| CO | University of Colorado – Boulder |
| TX | University of Dallas |
| OH | University of Dayton |
| OH | University of Dayton – Sinclair Academy |
| CO | University of Denver |
| UK | University of Edinburgh |
| IN | University of Evansville |
| OH | University of Findlay |
| FL | University of Florida |
| GA | University of Georgia |
| IL | University of Illinois – Chicago |
| IL | University of Illinois – Urbana Champaign |
| IN | University of Indianapolis |
| IA | University of Iowa |
| KY | University of Kentucky |
| IN | University of Louisville |
| ME | University of Maine |
| MD | University of Maryland |
| MA | University of Massachusetts – Amherst |
| TN | University of Memphis |
| FL | University of Miami |
| MI | University of Michigan |
| MS | University of Mississippi |
| MO | University of Missouri |
| MO | University of Missouri – St. Louis |
| NE | University of Nebraska – Lincoln |
| NC | University of North Carolina – Chapel Hill |
| NC | University of North Carolina – Greensboro |
| NC | University of North Carolina – Wilmington |
| IN | University of Notre Dame |
| OR | University of Oregon |
| PA | University of Pittsburgh |
| NY | University of Rochester |
| CA | University of San Francisco |
| AL | University of South Alabama |
| SC | University of South Carolina – Aiken |
| SC | University of South Carolina – Columbia |
| FL | University of South Florida |
| CA | University of Southern California |
| UK | University of St. Andrews |
| MN | University of St. Thomas |
| FL | University of Tampa |
| TN | University of Tennessee – Knoxville |
| TN | University of Tennessee – Chattanooga |
| OH | University of Toledo |
| WA | University of Washington |
| OH | Ursuline University |
| TN | Vanderbilt University |
| PA | Villanova University |
| VA | Virginia Polytechnic Institute and State University |
| WI | Viterbo University |
| NC | Wake Forest University |
| OH | Walsh University |
| MO | Washington University in St. Louis |
| MO | Webster University |
| WV | West Virginia University |
| KY | Western Kentucky University |
| MI | Western Michigan University |
| PA | Westminster College |
| WV | Wheeling Jesuit University |
| MO | William Woods University |
| OH | Wilmington College |
| NC | Wingate University |
| OH | Wittenberg University |
| OH | Wright State University |
| OH | Xavier University |
| LA | Xavier University of Louisiana |
| | |