A Journey to Success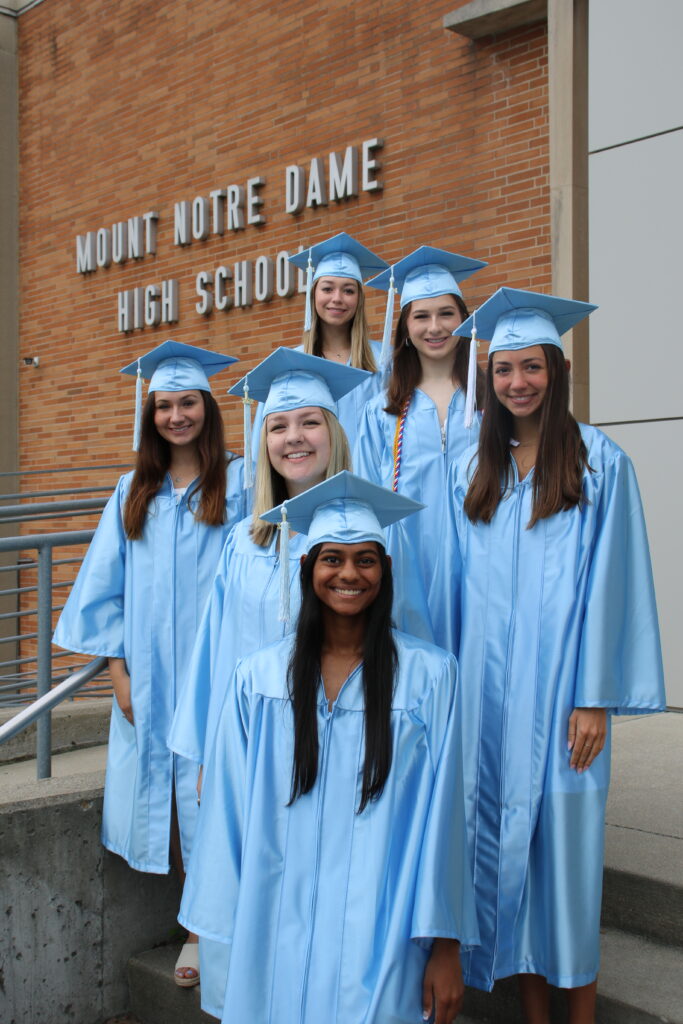 The Road to College is a partnership between MND, our students and our parents that begins on the first day of a student's freshman year. MND's systematic, yet personalized approach ensures that each student arrives at the best destination for her.
Each student will receive a Road to College Planning Guide freshman year, followed by an online Road to College Resource beginning sophomore year. This online guide contains a wealth of information designed to help navigate the college search and to understand the admissions and financial aid process. How to Begin the College Search Process, Career Exploration, ACT and SAT Preparation, Financial Aid and How to Apply to College are just a few of the topics in the twelve section guide that offer valuable information and help guide you in your planning. Your daughter's school counselor will reference the Road to College online resource and work through its contents with your daughter during individual and group meetings beginning the sophomore year and carrying through her senior year.  Parents and students will also have unlimited access to this online resource to use during the college search process.
The Road to College will look different for each student, and it is our mission to help our students prepare to take their next steps in life.
• $25.4 Million was reported by the Class of 2022 for merit-based college scholarships.
• 98.99% of MND graduates pursue higher education.
• 99 graduates and current students were recognized as 2021 Advanced Placement Scholars.
The Guidance Department welcomed 97 college representatives to MND last Fall
Virtual College Representative Visits for the 2021-2022 School Year
Allegheny College
Art Academy of Cincinnati
Ashland University
Baldwin Wallace University
Ball State University
Bellarmine University
Binghamton University
Boston College
Bowling Green State University
Bucknell University
Butler University
Capital University
Catholic University of America
Centre College
Chatfield College
Christ College of Nursing and Health Sciences
Cincinnati State Technical and Community College
Cleveland State University
College of Creative Studies
Defiance College
DePauw University
Drexel University
East Carolina University
Eckerd College
Embry Riddle University
Florida State University
Gannon University
Georgetown College
Good Samaritan College
Grand Canyon University
Hanover College
Hillsdale College
Hiram College
Hofstra University
Holy Cross College
Indiana University – Bloomington
John Carroll University
Kansas City Art Institute
Kent State University
Kenyon College
Lipscomb University
Long Island University
Loyola University Chicago
Marietta College
Marshall University
Mercyhurst University
Miami University – Hamilton
Miami University – Oxford
Miami University Regionals
Michigan State University
Morehead State University
Mount St. Joseph University
Neumann University
Niagra University
Northern Kentucky University
Ohio Northern University
Ohio State University
Purdue Polytechnic Institute
Purdue University
Saint Leo University
Saint Louis University
Savannah College of Art and Design
Shawnee State University
Sinclaire Community College
St. Mary's College
St. Michael's College
St. Thomas University
Syracuse University
Thomas More University
Tiffin University
Transylvania University
Tulane University
University of Akron
University of Alabama
University of Alabama – Huntsville
University of Charleston
University of Cincinnati
University of Cincinnati – Blue Ash
University of Dallas
University of Dayton
University of Florida
University of Kentucky
University of Louisville
University of Michigan
University of Mount Union
University of Notre Dame
University of South Alabama
University of Tennessee
University of Toledo
Valparaiso University
Walsh University
West Virginia University
Wilmington College
Wittenberg University
Worcester Polytechnic Institute
Wright State University
Xavier University
STATE  COLLEGE
AL        Alabama A&M University
DC      American University
IN         Anderson University
Czech Anglo-American University
OH      Antioch College
NC      Appalachian State University
AZ       Arizona State University
AR       Arkansas Baptist College
OH      Art Academy of Cincinnati
KY        Asbury University
OH      Ashland University
AL        Auburn University
TN        Austin Peay State University
VA       Averett University
OH      Baldwin Wallace University
IN         Ball State University
IN         Ball State University
KY        Bellarmine University
TN        Belmont University
SC       Benedict College
KS        Benedictine College
TN        Bethel University
WV      Bluefield State College
OH      Bluffton University
MA      Boston College
MA      Boston University
OH      Bowling Green State University
ID         Bringham Young University Idaho
IN         Butler University
NC      Campbell University
NY       Canisius College
OH      Capital University
MN      Carleton College
PA       Carlow University
PA       Carnegie Mellon University
OH      Case Western Reserve University
DC      Catholic University of America
OH      Cedarville University
OH      Central State University
KY        Centre College
VT        Champlain College
CA      Charles R. Drew University of Medicine and Science
OH      Christ College of Nursing and Health Sciences
OH      Cincinnati State Technical and Community College
SC       Claflin University
GA      Clark Atlanta University
SC       Clemson University
OH      Cleveland Institute of Art
OH      Cleveland State University
SC       Coastal Carolina University
ME       Colby College
NY       Colgate University
SC       College of Charleston
MN      College of Saint Benedict
OH      College of Wooster
CO      Colorado College
CO      Colorado State University
SC       Columbia College
IL          Columbia College Chicago
OH      Columbus College of Art & Design
SC       Converse College
NY       Cornell University
NE       Creighton University
NH       Dartmouth College
OH      Denison University
IL          DePaul University
IN         DePauw University
LA        Dillard University
IL          Dominican University
NJ        Drew University
PA       Drexel University
NC      Duke University
PA       Duquesne University
IN         Earlham College
NC      East Carolina University
KY        Eastern Kentucky University
MI        Eastern Michigan University
NC      Elon University
MA      Emmanuel College
GA      Emory University
TN        Fisk University
FL         Florida A&M University
FL         Florida Golf Coast University
FL         Florida Southern College
FL         Florida State University
NY       Fordham University
SC       Francis Marion University
OH      Franciscan University of Steubenville
SC       Furman University
OH      Galen College of Nursing
PA       Gannon University
PA       Geneva College
VA       George Mason University
DC      George Washington University
KY        Georgetown College
DC      Georgetown University
IN         Goshen College
MI        Grand Valley State University
NC      Guilford College
VA       Hampton University
IN         Hanover College
HI         Hawaii Pacific University
OH      Heidelberg University
NC      High Point University
MI        Hillsdale College
OH      Hiram College
NY       Hofstra University
MA      Holy Cross University
MI        Hope College
NY       Houghton College
DC      Howard University
IL          Illinois College
IN         Indiana Institute of Technology
IN         Indiana State University
IN         Indiana University
IN         Indiana University – East
IN         Indiana University-Purdue University – Fort Wayne
IN         Indiana University-Purdue University – Indianapolis
IN         Indiana Wesleyan University
IA        Iowa State University
NY       Ithaca College
FL         Jacksonville University
VA       James Madison University
OH      John Carroll University
NY       John Jay College of Criminal Justice
GA      Kennesaw State University
OH      Kent State University
KY        Kentucky State University
OH      Kenyon College
OH      Lake Erie College
IL          Lake Forest College
MA      Lasell University
TN        Lee University
PA       Lehigh University
VA       Liberty University
TN        Lipscomb University
LA        Louisiana State University
IL          Loyola University –  Chicago
LA        Loyola University  – New Orleans
MN      Macalester College
IN         Marian University
WI        Marquette University
WV      Marshall University
MO     Maryville University
MA      Massachusetts College of Liberal Arts
GA      Mercer University
OH      Miami University
OH      Miami University – Hamilton
MI        Michigan State University
TN        Middle Tennessee State University
IL          Millikin University
WI        Milwaukee School of Engineering
MO     Missouri University of Science and Technology
OH      Modern College of Design
NJ        Montclair State University
KY        Morehead State University
MD      Morgan State University
OH      Mount St. Joseph University
OH      Muskingum University
NY       New York University
SC       Newberry College
UK       Newcastle University
VA       Norfolk State University
NC      North Carolina A&T State University
NC      North Carolina Central University
NC      North Carolina State University
IL          North Central College
MA      Northeastern University
AZ       Northern Arizona University
KY        Northern Kentucky University
OH      Notre Dame College
OH      Oberlin College
OH      Ohio Dominican University
OH      Ohio Northern University
OH      Ohio State University
OH      Ohio State University – Lima
OH      Ohio State University – Newark
OH      Ohio University
OH      Ohio University – Southern
OH      Ohio Wesleyan University
OK       Oklahoma City University
VA       Old Dominion University
OK       Oral Roberts University
OH      Otterbein University
NY       Pace University
WA      Pacific Lutheran University
FL         Palm Beach Atlantic University
PA       Pennsylvania State University
CA      Pepperdine University
PA       Point Park University
TX        Prairie View A&M University
NY       Pratt Institute
IN         Purdue University
IN         Purdue University – Fort Wayne
NC      Queen University of Charlotte
UK       Queen's University – Belfast
CT       Quinnipiac University
UK       Regent's University London
NY       Rensselaer Polytechnic Institute
VA       Roanoke College
PA       Robert Morris University
NY       Rochester Institute of Technology
IL          Roosevelt University – Chicago
IN         Rose-Hulman Institute of Technology
NJ        Rutgers University
ME       Saint Joseph's College of Maine
MO     Saint Louis University
IN         Saint Mary's College
VT        Saint Michael's College
PA       Saint Vincent College
AL        Samford University
NY       Sarah Lawrence College
GA      Savannah College of Art and Design
IL          School of the Art Institute of Chicago
MO     Shenandoah University
OH      Sinclair College
IL          Southern Illinois University
LA        Southern University and A&M College
GA      Spelman College
AL        Spring Hill College
NY       St. John's University
MO     St. Louis University
NY       SUNY College of Environmental Science & Forestry
VA       Sweet Briar College
NY       Syracuse University
IN         Taylor University
PA       Temple University
TN        Tennessee State University
OH      Terra State Community College
TX        Texas A&M University
TX        Texas Southern University
KY        Thomas More University
OH      Tiffin University
KY        Transylvania University
TN        Trevecca Nazarene University
MO     Truman State University
LA        Tulane University
AL        Tuskegee University
MD      United States Naval Academy
OH      University of Akron
AL        University of Alabama
AL        University of Alabama – Birmingham
AL        University of Alabama – Huntsville
AK       University of Alaska – Anchorage
AZ       University of Arizona
AR       University of Arkansas
UK       University of Bristol
SC       University of Charleston
OH      University of Cincinnati
OH      University of Cincinnati – Blue Ash
OH      University of Cincinnati – Clermont
OH      University of Cincinnati – DAAP
CO      University of Colorado – Boulder
TX        University of Dallas
OH      University of Dayton
OH      University of Dayton – Sinclair Academy
DE       University of Delaware
CO      University of Denver
UK       University of Edinburgh
IN         University of Evansville
OH      University of Findlay
FL         University of Florida
GA      University of Georgia
HI         University of Hawaii
HI         University of Hawaii – Manoa
IL          University of Illinois
IL          University of Illinois – Urbana Champaign
IN         University of Indianapolis
IA        University of Iowa
KY        University of Kentucky
KY        University of Louisville
ME       University of Maine
MA      University of Massachusetts – Boston
FL         University of Miami
MI        University of Michigan
MS       University of Mississippi
MO     University of Missouri – Columbia
MO     University of Missouri – St. Louis
MT       University of Montana
NE       University of Nebraska – Lincoln
NV       University of Nevada – Las Vegas
NH       University of New Hampshire
NC      University of North Carolina – Chapel Hill
NC      University of North Carolina – Charlotte
NC      University of North Carolina – Wilmington
KY        University of Northern Kentucky
IN         University of Notre Dame
OK       University of Oklahoma
OR       University of Oregon
PA       University of Pittsburgh
VA       University of Richmond
NY       University of Rochester
CA      University of San Diego
CA      University of San Francisco
SC       University of South Carolina – Columbia
FL         University of South Florida
CA      University of Southern California
UK       University of St. Andrews
FL         University of Tampa
TN        University of Tennessee – Knoxville
OH      University of Toledo
UT        University of Utah
VT        University of Vermont
VA       University of Virginia
WI        University of Wisconsin – Madison
OH      Ursuline College
UT        Utah Valley University
IN         Valparaiso University
TN        Vanderbilt University
PA       Villanova University
VA       Virginia Commonwealth University
VA       Virginia Polytechnic Institute and State University
VA       Virginia State University
WI        Viterbo University
SC       Voorhees College
NC      Wake Forest University
OH      Walsh University
MO     Washington University in St. Louis
MO     Webster University
WV      West Virginia University
KY        Western Kentucky University
PA       Westminster College
WV      Wheeling Jesuit University
OH      Wilberforce College
MO     William Woods University
OR       Williamette University
OH      Wilmington College
NC      Winston-Salem State University
OH      Wittenberg University
SC       Wofford College
OH      Wright State University
OH      Xavier University
LA       Xavier University of Louisiana
OH      Youngstown State University