The MND/Moeller Band is a partnership between Moeller High School and Mount Notre Dame, including over 70 members from both schools. These students participate in Honors Band and Color/Winter Guard. Regularly performing "music that no one expected," the MND/Moeller Band has entertained thousands at concerts, football games, competitions, and pep rallies.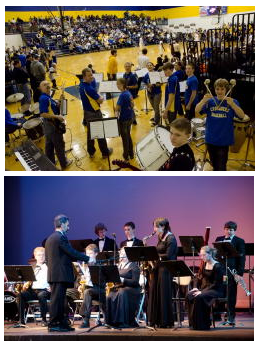 In the fall students participate in the MND/Moeller Marching Band. This group performs at football games and local contests, putting on a high-energy show incorporating electronics, a stadium-quality sound system, dance, guitars, flags, keyboards, singers, and more. Students actually watch our shows. Opposing crowds sing along and light up their phones. This is NOT the stereotypical marching band, either in how we play, or how we are seen by our peers. Band is one of only a few co-ed social activities, and incoming freshmen make many new friends at MND and Moeller before the school year starts, which eases the transition into high school.
After football season, our principal activity is Concert Band. This group is featured on the Christmas and Spring Concerts along with smaller groups that are formed as part of the Honors Band classes. In addition to growing numbers, this group has a growing reputation, having performed in Washington, D.C., Chicago, New York City, and Boston. In the spring of 2020, this group will be performed at the Grand Ole Opry and recorded at a studio in Nashville, Tennessee.
Optional extracurricular opportunities include Jazz Band, Pep Band, Winter Guard, and Indoor Ensemble. Jazz Band concentrates on the most truly American style of music – one that thrives on diversity of cultures. Pep Band is a fun group that plays rock and pop music to add spirit to Moeller and MND basketball games.  Winter Guard is an extension of the Color Guard that performs in the fall with the MND/Moeller Marching Band.  And our Indoor Ensemble gives wind, string, and percussion players another opportunity to grow in musicianship and compete indoors as a smaller, more imaginative marching ensemble.
Any student entering MND who has played a Band instrument in grade school/middle school is eligible to sign up for the Instrumental Music class. Students who do not yet play a band instrument, but wish to do so, are welcome to join. We can get you started with lessons on an instrument in the spring or summer so that in the fall you can participate to the fullest.
For more information, contact:
Mr. Paul Kindt
Band Director
pkindt@moeller.org
Mrs. Elizabeth Venia
Performing Arts Chair
evenia@mndhs.org
Frequently Asked Questions

How much time is required outside of class?
Marching band season (late summer and fall) is our busiest time. We generally have evening practices the first couple weeks of June and then break for vacations in late June/early July. Band Camp is a week at Wright State University in the middle of July, followed by two intense weeks of evening practices at Moeller. Please notify us in advance of any conflicts and we will be flexible!
Once school begins, we practice on Mondays from 3-5 PM, and Thursdays from 6-9 PM. We perform at all Moeller Varsity Football games and participate in 2-3 marching band competitions. After marching season there are fewer after-school practices (Wednesdays 3 – 5:30 for concert band, plus optional Jazz or Pep Band practices) so students are able to participate in Winter or Spring sports or other activities.  We are flexible whenever it's possible, and so are coaches, we've found.  You CAN do more than one thing in high school.
What if I play a fall sport?
You can still take band as a class and perform with the concert band. You will not be able to fully participate in marching band, however. Students need to make a commitment either to the marching band or to the sport by June 15. Students who intend on playing a fall sport still attend band practices in June. They will be excused from Band Camp and after school marching practices but are expected to put on the uniform and come with us to contests and home football games to perform in the stands.  Basically, the only thing you can't do is the 7-minute halftime show that we worked on all summer.
Can I still take a language and participate in Band?
Yes. The eight-class block schedule opens up many options for electives, especially in the 10th, 11th and 12th grades. The easiest way is to postpone Health/PE to your Sophomore year, when you have more open slots in your schedule. Conversely, some students find it best to take Health and a PE their freshman year and wait until sophomore year to begin a language. This still allows for three years of a world language. Please talk to your school counselor.
What if I don't play a band instrument but would like to join the band?
Every year we have a student or two who start fresh on a band instrument, or plays piano or guitar or a non-band instrument. This past year, we had several!  We are here to help you succeed.  New musicians will be required to take private lessons over the summer (we have a list of recommended teachers). We can also have an older student provide extra help during summer rehearsals. Like in all things, your success will depend on your effort.  But it's very possible.