Empowering Young Women
Mount Notre Dame offers a unique and complete college preparatory experience. It is an experience that is rooted in Catholic tradition and features a vibrant learning community, offering superior academics and a comprehensive education. There are vast extracurricular opportunities for our students that foster leadership, team work and a sense of responsibility to share their gifts with others. The result – bright, confident young women who go on to excel in college, career and in life. Mount Notre Dame has 688 students enrolled in Grade 9 through Grade 12 as of October 31, 2022.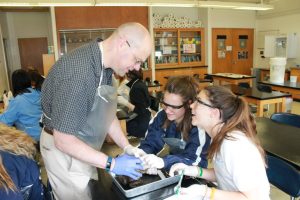 Strong Foundation
The foundation of the Mount Notre Dame experience is the impressive academic program. With 20 Advanced Placement and 26 Honors courses, MND's Honors/AP opportunities (including an AP course available to freshmen) are among the best in the region. MND's Billiart Scholar Honors Program, for students scoring in the 90th percentile or higher on the High School Placement Test (HSPT), exposes students to not only the most challenging course of study and early exposure to college placement tests but also to a vast array of career exploration opportunities.
Shaping the Next Generation of Leaders
MND's engineering courses prepare the scientifically-talented young women of today for a career in this highly competitive field. MND also boasts strong programs in the humanities that offer leadership opportunities and a greater awareness of the inter-connectedness of our global society. MND is also deeply committed to the role of women in philanthropy. Its student-run Youth Philanthropy Council is a mini-foundation that has made an impact regionally, nationally and internationally.
Family Spirit is Alive!
MND's family spirit sets it apart. Walking through the halls, it is evident that Mount Notre Dame's students support, encourage and challenge each other. This environment produces young women who think critically to solve problems, work cooperatively in group settings, delight in each other's successes and push one another to maximize their God-given gifts.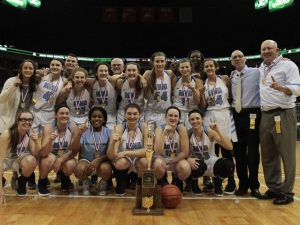 State Championship Athletic Teams & Leadership Building Extra-Curriculars 
To top it all off, MND's athletic program not only consistently brings home state championships but also produces players sought after by the most competitive colleges. Georgetown, Northwestern and Vanderbilt are just a few of the universities that have MND Cougars wearing their colors. In addition, MND meets various student interests through nearly 50 clubs, giving students the opportunity to emerge as leaders.
Success for Life!
Mount Notre Dame provides young women with the values and tools necessary to succeed in high school, college and in their careers. Beyond that, the encouragement and support from faculty and friends instills a solid sense of self in the young women of MND, allowing them to succeed in life.