Achieve More …. Now and Forever
This campaign includes two pieces – growth of the endowment and facilities improvements.
Launched in October of 2018, the campaign has raised almost $2M for the MND Endowment and $1.7M for capital improvements which included the creation of the new Learning Commons and the new Performing Arts Center.
We are always interested in speaking to any benefactor who might want to learn more about the endowment, capital improvements, or any other opportunities to invest in Mount Notre Dame. Please contact President Judy Back Gerwe '78 at 821-3044 x126 or at jgerwe@mndhs.org.
Growth of the Endowment (the forever piece)
The goal in our current strategic plan is to grow our endowment to $30M, ensuring our long-term financial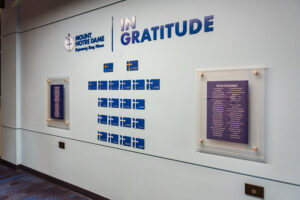 sustainability. A large endowment will help us stay true to our mission and has an impact on helping families afford a Catholic high school education. Endowments may also be set up to help fund faculty positions and program expansion. The future of Catholic secondary schools and the faith formation of young people will depend on endowment dollars.
We are excited to report that the MND Endowment is now over the $10M and we added over forty new named scholarships through this campaign! We continue to set up new scholarships and also accept investments in both the general endowment fund and already established scholarships.  (CLICK HERE for a list of all our named scholarships)
Facilities Improvements (the now piece)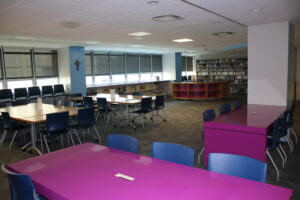 Thanks to the investment of several benefactors, the Learning Commons was created over the summer of 2019 with money collected from the campaign. This space can be found on the second floor across from the College and Career Center and helps fulfill a strategic plan goal of "Craft an environment that will encourage student learning".  The Master Site Plan includes an expansion of the Learning Commons at a future date.
Construction on the Performing Arts Center began in June of 2020 and was completed in March 2021. This space is absolutely beautiful and can be used for many things – theater productions, dance performances, chorus and band concerts, class assemblies, meetings, speakers, classes, community gatherings and even as a rental facility.
Matching Gift Program
Double or triple your investment! CLICK HERE to see if your company may provide matching gifts. If they do, please mail your company's matching gift form c/o Mount Notre Dame, 711 East Columbia Avenue, Cincinnati, Ohio 45215 or email jgallo@mndhs.org. Thanks!