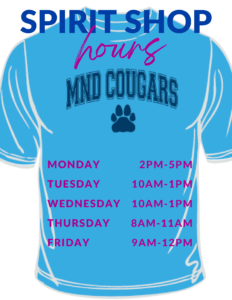 The MND Cougar Spirit Shop is located directly inside the main doors of the school in the foyer.
School Year Operating Hours 
(these hours apply to normal operating hours when school is in session -
 special event and holiday hours will be updated as needed)



Mondays | 2 PM - 5 PM




Tuesdays | 10 AM - 1 PM
Wednesdays | 10 AM - 1 PM
Thursdays | 8 AM - 11 PM
Fridays | 9 AM - 12 PM
Volunteers
Parents can volunteer in the MND Spirit Shop during the hours we are open. The hours count as Athletic Parent Service Hours. If you are interested in volunteering, contact Kathleen Smith-Reeves at ksmithreeves@mndhs.org.
Available Items
♦ School and Gym Uniforms
♦ Spirit Wear
♦ Fan Wear
♦ Novelty Items
♦ Gifts
♦ and more!
Contact
Kathleen Smith-Reeves
ksmithreeves@mndhs.org
513.821.3044 x121
The Spirit Shop gladly accepts MasterCard, Visa and American Express.
New Arrival!