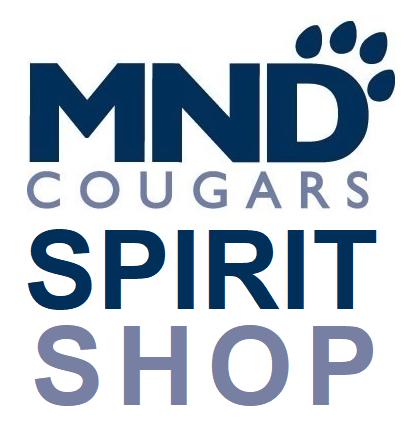 Summer Hours
Wednesdays 10 AM to 1 PM
Closed July 24 and July 31
MND Uniform Information for Parents
You can purchase the MND uniform here in the Spirit Shop on Wednesdays when the Spirit Shop is open. The uniform company is coming back to MND on Wednesday, July 17th from 4:00 PM to 7:00 PM.  The Spirit Shop will also be open during that time.
School Year Operating Hours
Monday – Friday | 10 AM – 1 PM
Parents can volunteer in the MND Spirit Shop weekdays from 10 AM – 1 PM. The hours count as Athletic Parent Service Hours. If you are interested in volunteering, please CLICK HERE.
Available Items:
• School and Gym Uniforms
• Spirit Wear
• Fan Wear
• Novelty Items
• Gifts and more!
The MND Cougar Spirit Shop is located directly inside the main doors of the school in the foyer.
Contact:
Colleen Holthaus
cholthaus@mndhs.org
The Spirit Shop gladly accepts MasterCard, Visa and American Express.