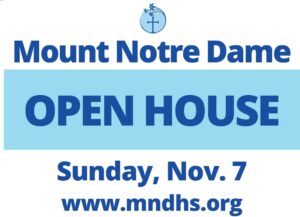 Save the date for MND's Open House on Sunday, November 7, 2021 from 1 p.m. – 5 p.m. You will have an opportunity to:
♦ tour the building with an MND Ambassador
♦ get a first-hand look at our programs
♦ individually meet our administrators, teachers and coaches
In order to socially distance during Open House, MND will be requiring registration with assigned tour times. There is a limit of three individuals per family tour, with an exception for eighth grade parents who also have another eighth or seventh grade daughter. Registration will be open for all families (all grades) beginning on October 1.
Check out these videos to see some of the great photos from our Open Houses!