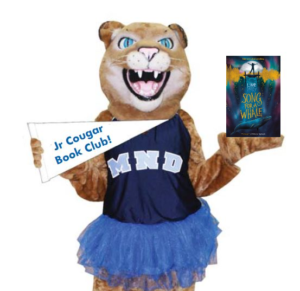 Join the Junior Cougar Book Club!
Attention rising 7th and 8th grade girls!
MND invites you to join the FREE Junior Cougar Book Club this summer!
Each participant will receive her own copy of the selected book to read at home.

♦ Step 1: Register starting June 1. The Junior Cougar Book Club is limited to 100 participants.
♦ Step 2: Stop by MND to pick up the free personal copy of this summer's selected book (Song for a Whale by Lynne Kelly)!  You can pick up anytime during school hours (8:00 am – noon).
♦ Step 3: Read the book!
♦ Step 4: Attend the Junior Cougar Book Club Party on June 29, 2022 at 9:30 AM! This is a fun event featuring book-related activities and discussions led by MND Student Ambassadors, Book Club Members and Faculty.
Song for a Whale by Lynne Kelly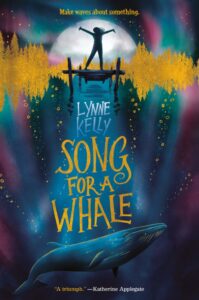 The story of a deaf girl's connection to a whale whose song can't be heard by his species, and the journey she takes to help him. From fixing the class computer to repairing old radios, twelve-year-old Iris is a tech genius. But she's the only deaf person in her school, so people often treat her like she'd not very smart. If you've ever felt like no one was listening to you, then you know how hard that can be. When she learns about Blue 55, a real whale who is unable to speak to other whales, Iris understands how he must feel. Then she has an idea: she should invent a way to "sing" to him! But he's three thousand miles away. How will she play her song for him? – From GoodReads
Registration opens June 1 at midnight!
Mount Notre Dame took care in selecting this book; however, we encourage parents to decide one the appropriateness of this book for their daughter, and even read along with her! This book is intended to serve as an opportunity for Junior Cougar Book Club participants to think, discuss, question, explore, and participate in fun book-related activities with other peer readers, led by MND students and MND Book Club moderators.
Please contact Donna Groene, Director of Admissions, at dgroene@mndhs.org or Julia Desrosiers, Admissions Program Coordinator at jdesrosiers@mndhs.org if you have any questions.
Past selections include: Stargirl by Jerry Spinelli