Join the Junior Cougar Book Club!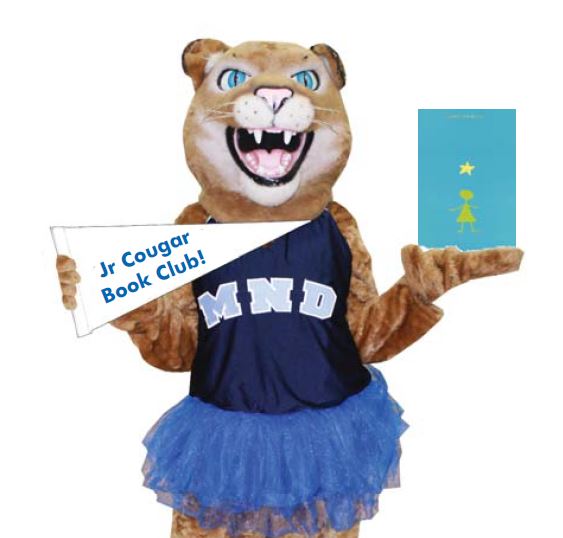 Attention rising 7th and 8th grade girls!
MND invites you to join the FREE Junior Cougar Book Club!
Each participant will receive her own copy of the book, Stargirl by Jerry Spinelli, to read at home. After reading the book, Cougar Cub Book Club members will then participate in virtual discussions and activities led by MND Student Ambassadors & Faculty.
Claim your copy of the book during our drive-by pick up on Tuesday, July 14 from 10:00 a.m.-1:00 p.m. (After this date families may pick up the book from the Main Office on weekdays from 8-12.)
Be sure to register early as space is limited!
Synopsis of Stargirl
Eleventh grader Leo has never met anyone like Stargirl, and neither has anyone else at Mica High. She dances around the cafeteria playing a ukulele, and never misses a chance to sing "Happy Birthday." She doesn't act right, she dresses weird, and she is always blazingly herself. At first the students are puzzled, then entranced, and Stargirl becomes the most popular girl at school. And Leo is in love.
But just as quickly Stargirl becomes the most despised student, shunned by the others, and Leo, now her boyfriend, is shunned with her. Though she has opened him up to new ways of experiencing life, when forced to choose between Stargirl and everyone else, Leo does what any teenager would do, and that choice reverberates down the rest of the years of his life.  – From Common Sense Media
About the Author
Jerry Spinelli has written over fifteen novels for adolescents and has received numerous awards for his writing.  Some of his accolades include the Newbery Medal, the Boston Globe-Horn Book Award, The notable Children's Books Award, and Best Books for Young Adults Award.  Spinella has earned numerous achievements for Stargirl, and the book recently was made into a movie for streaming on Disney+.