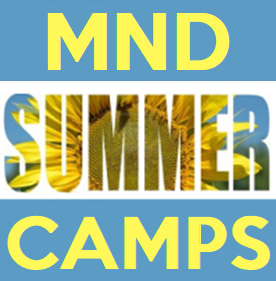 Summer Camp information for Summer 2020 will be posted in January/February 2020.  Please check back.
Summer is exciting at MND! Mount Notre Dame offers an excellent summer program – something for everyone! Whether your child is a budding actress/actor or dancer, wants to get a leg up on preparing for the High School Placement Test, or wants to develop her athletic skills, MND has a camp! Theatre Camp, Theatre Prep, Programming Camp and UpCycled Art Camp are opportunities open to boys as well as girls.
Learn more about MND! At each camp there will be an opportunity for girls and parents to learn about all that a Mount Notre Dame education has to offer. For an individual campus tour and/or meeting, please contract Donna Groene, Director of Admissions, at 513.821.3044 ext 164 or dgroene@mndhs.org.
Here were the camps offered during the Summer 2019.
Sports Camps
Basketball Camp (Gr. 4 – 8)
Basketball Camp (Elite | Gr. 7 – 8)
Basketball Camp (Incoming MND Freshmen)
Volleyball Camp (Incoming MND Freshmen)
Volleyball Camps (Gr. 3 – 8)
Lacrosse Camp (Gr. 4 – 9)
Soccer Camp (Gr. 3 – 8)
Special Interest Camps
Theatre Camp (Coed | Gr. 3 – 8)
Dance Camp (Gr. K – 8)
HSPT Prep Courses (8th Grade Girls Only)
HSPT Prep Class – Saturdays, Fall '19 (Gr. 8 Girls Only)
HSPT Practice Test Only (8th Grade Girls Only)
Leadership Camp (MND Class of 2023 Only)
Theatre Prep Camp (Coed | Gr. 8 & 9)
"Oh the Places You'll Go" STEAM Camp (Coed | AGES 4 – 7)
Clay & Printmaking Camp (Coed | Gr. 3 – 8)
Programming Camp (Coed | Middle School Students)
Getting The Edge (MND Class of 2023 only)
Upcycled Art Camp (Coed | Gr. 5 – 12)
Show Choir Camp (Girls | Gr. 7 – 8)
Summer Music Experience @ Moeller (Coed | Gr. 6 – 8)
Color Guard Camp @ Moeller (Coed | Gr. 4 – 8)
For more information, contact:
Sports Camps
Mrs. Colleen Holthaus
cholthaus@mndhs.org 
513.821.3044 ext. 133
Special Interest Camps
Mrs. Terri Miller
tmiller@mndhs.org
513.821.3044 ext. 124