Our Mission
The mission of Graces & Blessings Cross Ministry is to spread our faith in Jesus Christ through the making and distribution of small wooden crosses.
What We Do
MND students come together to build small wooden crosses in the form of necklaces and keychains.  These crosses are available to anyone who would like them – free of charge.
History of our Ministry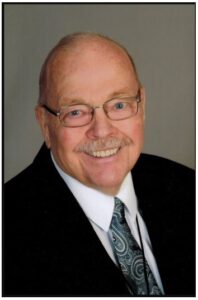 Graces & Blessings Cross Ministry was inspired by the work of Mr. Bill Evans.  For many years, Mount Notre Dame would request several hundred wooden crosses from Mr. Evans. Bill, a retired minister in Iowa.  Bill began the 2nd Chance Cross ministry to give old, unusable wood a "second chance" by turning transform this discarded lumber into small crosses.  Mr. Evans would then send these crosses, at no cost, to whoever requested them.  Over the years, MND requested and received several thousand wooden cross necklaces from his organization.   Many lives in the MND community, and thousands around the world, were touched by his generosity. (Visit www.tinyurl.com/2ndchancecrosses to see an archived version of his website.)
In June 2018, Mr. Evans passed away from heart issues and Parkinson's disease. (See Bill's Obituary). Unaware of his passing when he reached out to Bill, Mr. Forman spoke with Bill's widow, Sherry, who sent us the last bit of supplies from the 2nd Chance Cross Ministry.   After hearing the story, a group of MND students wanted to continue Mr. Evan's mission and create our own ministry in his memory – all to glorify God through his son, Jesus Christ.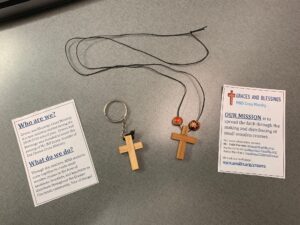 Continuing the Mission
In the Spring of 2020 a team of MND students came together to form the Graces & Blessings Cross Ministry.  Student leaders manage the production with student volunteers. Tasks including planing scrap wood to the desired thickness (1/4″ x 1/4″), routing the wood grooves, sawing, gluing, staining, drilling and assembling necklaces and key rings, and placing into the plastic sleeves for distribution.  We are working slowly but steadily.  Our students meet regularly to continue the work Mr. Evans started. We also partner with local retirement communities who help with necklace assembly.
Would you like some crosses?
If you would like some cross necklaces, keyrings or just plain wooden crosses please click the button below.  We will be happy to send them to you at no charge.

Want to Help?
If you would like to volunteer to help our ministry, contact us!  We can use a few more woodworkers and folks to assemble our crosses and necklaces.
Want to Support our Work?
We don't charge for our crosses, however we are happy to accept modest financial donations to help offset our costs. Jen Dodds (jdodds@mndhs.org) if you would like to make a donation.
Thank You!
We truly appreciate your support and prayers for our work as we continue the work Mr. Bill Evans began.  We hope to work with you to touch the lives of countless people through the second chance Jesus offers us through the cross.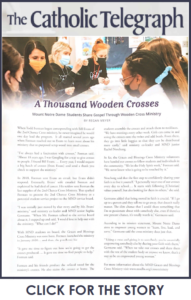 Special Thanks to these wonderful people who share their time, talent and treasure:
♥ Scrap Hardwood: Terri Hogan and Harrison Bird of Contemporary Cabinetry East
♥ Woodworking: Dan Hart and Todd Forman
Contact
Mrs. Jen Dodds (jdodds@mndhs.org)