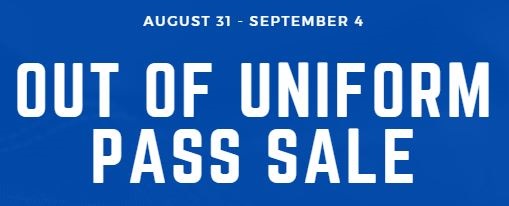 DEADLINE EXTENDED TO FRIDAY, SEPTEMBER 11 @ 4:00 PM
Thanks for your interest in purchasing a Jeans Day (Out of Uniform) pass!
Here are few notes:
→ You may purchase passes for you and your siblings at the same time, but you must know their HR.
→ Make sure you know your HR number (ex. 10C).
→ Make sure you know your parent/guardian's email address.
→ Please have your credit card ready before beginning the process.
Directions:
(1) Complete the form information below.
(2) After you click SUBMIT, you will be sent to our secure Authorize.net site for payment.
(3) You must successfully complete the payment step in order for your order to be processed.
(4) Note: No refunds will be given.
Your credit card information will be transmitted through a secure connection through Authorize.Net. 
Contact Mrs. Brehm (kbrehm@mndhs.org) if you have any questions.