SUMMER SERVICE TRIP APPLICATIONS
Columbus OH RTNI (June 11 – 14)
Liberty, KY Rural Plunge (June 23 – 29)
SVDP Urban Plunge (July 5 – 8)
Caring Cougars Summer Service Team Registration
MND's Community Service Program offers a variety of different student-led service programs including helping students at local schools through after school tutoring programs, a myriad of activities through our Conference with St. Vincent de Paul, partnerships with non-profit organizations like The Children's Home of Cincinnati and Operation Give Back, pediatric cancer research support through Night for the Fight, support for the Sisters of Notre Dame de Namur, and much more!
Service Board
The MND Community Service Program is led by a team of eight outstanding young women who serve on the Service Board.  Their job is to lead by example, as they all have an impressive involvement in and passion for serving others. Their job is lay the groundwork for the overall MND service program, help train the individual program leaders, manage communication, oversee finances, troubleshoot, cheer lead and recognize outstanding MND students in the area of service.  CLICK HERE to learn about your 2019-2020 Service Board.
Program Leaders
The Student Leadership Team is made up of the Service Board and Service Program Leaders.  Program Leaders organize and implement the various programs, projects and trips.  Some programs have multiple leaders and leadership teams.  Visit each program below to see the student leaders for that specific program.
Registration – Year-Long Programs – CLOSED AT THIS TIME
Links to registration information will be found under each program below. Note: Since some programs have limited capacity, the registration forms will turn off for that program once the application limit is met.  
Registration – One-Time Events and Service Trips
Registration forms for one-time events and trips will be made available via email and Community Service BAND group as the program nears.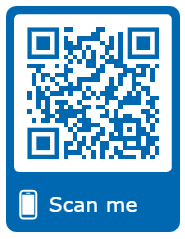 Event Calendar and Notifications – Stay Updated
Join the MND Community Service Program BAND to see our service offerings. Visit https://band.us/n/a9a111he07d1J to register.  You can also CLICK HERE to see our Google Calendar of Service Events.
Program Videos
CLICK HERE for links to the videos created by leaders of our programs.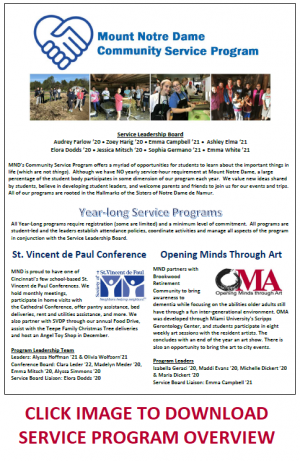 Periodic and One Time Events

Service Immersion Trips


What is Liberty, KY? Great question. Liberty is a small town tucked into the hills of central Kentucky. It is a way to escape to learn about simplicity and a chance to get in touch with nature and the beauty (and challenge) of growing food organically. It is an opportunity to spend time with people who not only love God, but live their faith every moment of every day. It is where you will serve others, grow closer to your friends, make many new friends, and laugh and enjoy life. It is an opportunity to meet some amazing people from around the world, folks with life stories that will stretch your mind. You also will learn a bit about organic farming, spend time with some wonderful Mennonite and Amish friends, help with construction projects, listen to some awesome music, serve elderly and differently-abled friends at the Galilean Children's Home, and much more.
Many students have made multiple visits, hungry to reconnect with our friends in Liberty, and to get a taste of a more simple way of life – to slow down, breathe, and get closer to God.
FALL TRIP | Click for photos
CHRISTMAS VISIT | Click for photos
SPRING TRIP | March 19 – 23, 2020 | APPLICATIONS CLOSED
SUMMER TRIP | June 23-29, 2020 | CLICK FOR APPLICATION
Recent Trip Photos/Videos: Fall 2018 | Christmas 2018 | Spring 2019 | Summer 2019
Click HERE for a student reflection that was published in an Irish Catholic magazine.

Sophomores of Service (SOS) Requirement
Participating in the Fall or Spring Liberty, KY trip will fulfill your requirement.
Excerpts from Reflections of past MND participants:
"I learned that relationships are what make our lives enjoyable. The constant theme of our current world seems to be making everyone independent, which has its own pros and cons. But the sense of unity that comes without technology is something that we can't easily get nowadays. I think, in the very beginning, humans were created to be together. So even though I love how I only have to rely on myself for a lot of things now, I'll always enjoy the moments where I get to take a step back and just connect with the people around me." (Class of 2019, first trip)
"The most beautiful things in life aren't things. The people in Liberty are amazing human beings who strive to lead happy and simple lives every day. I learned so much from witnessing their unique lifestyles. All the people in Liberty work every day to help each other out and sacrifice their days to lend a hand to anyone who needs it. The Nolts', Langes, and many other people in Liberty showed me that you don't need material things to be truly happy in life. Many of the people living at the Galilean Home really opened my eyes to see how blessed I am. They are people who have gone through hard times and difficult situations but don't let them control their life. They inspire me every day to appreciate the people and experiences in my life." (Class of 2020, second trip)
"Liberty is something truly special. It is a home to anyone willing to let it be. …there is a lot that happens in Liberty – far too much for me to write it all down. I don't know who reads these reflections, but I want whoever it is to know this: Don't take my word for it, because I can't really get it across to you the way the Big Man Upstairs can. And the way He got it across to me, was in Liberty. So if you're sitting there thinking, "Hmmm, this Liberty place sounds pretty darn cool," then I would advise you to go find out for yourself. It'll be great, I pinky promise." (Class of 2019, third trip)
Reflective Poems
Courtney DeJoy – Ready to Go | Suddenly
Claire Husting – Lanky Wheat
---
Liberty, KY Videos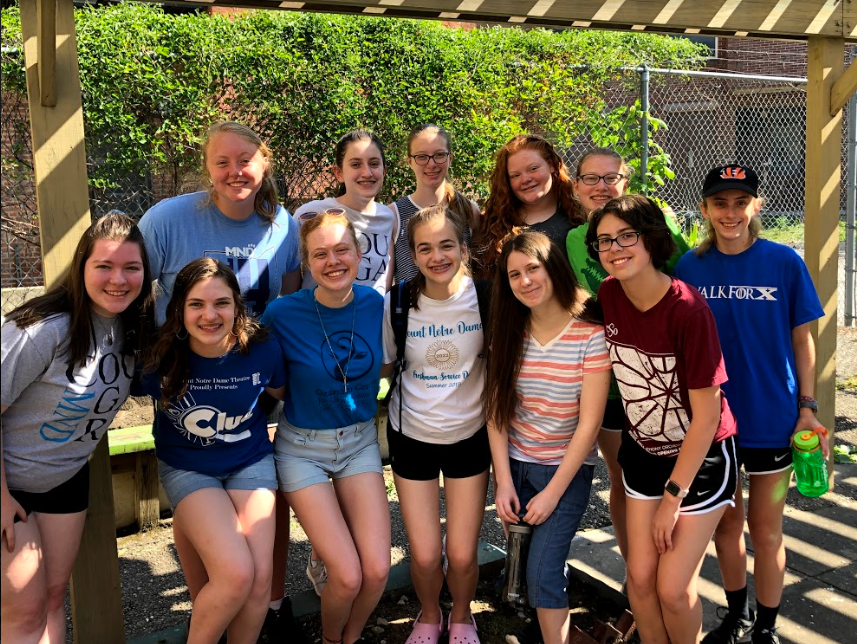 St. Vincent de Paul Over-the-Rhine Urban Plunge is a service-immersion opportunity for you to connect with people from diverse backgrounds in our own city. Participants live at the SVdP headquarters near downtown Cincinnati, in the West End, and we will learn first-hand about issue of poverty in Cincinnati by spending time with the people served by St. Vincent de Paul – as seen through the lens of Catholic Social Teaching.
Activities include making home visits with St. Vincent de Paul members and staff, serving neighbors in need, preparing and sharing a meal with residents of the West End or Over-the-Rhine, spending time with people experiencing poverty and homelessness, reflecting and praying, volunteering at various social service agencies, and hearing the voices of wonderful people who you would normally never meet. It is an incredible experience that will open your eyes to the struggles faced by so many of our brothers and sisters.
Upcoming SVDP Urban Plunges
Winter 2020: January 17 – 19, 2020
Summer 2020: July 5 – 8, 2020
Application for Upcoming Plunge
CLICK HERE FOR APPLICATION

Sophomores of Service (SOS) Requirement
Participating in the January 2020 SVDP Urban Plunge will fulfill your requirement.
Student Reflections
"I never realized how real poverty was right in my own city. I think it's great that people travel out of the country to help those in need, but why go to that extent if we have such poverty in our own backyard? Because of this awesome experience I had, I am now involved in our local SVDP with my own parish. I grew closer to God during the trip. I saw the face of God in so many people, both in the poor and in those helping the poor, and it definitely brought me closer to him. I think my prayer life has grown too because now I have a whole list of people that I lift up to God every night."
"The SVdP Urban plunge helped me see and understand much more about those experiencing poverty and the challenges they face on a daily basis. It is truly empowering to understand the challenges facing those experiencing poverty in our city and knowing how much we can help them simply by showing that we care. It is amazing to see the hope imparted to those we visited, even if we were not able to assist them."
"I learned how to not judge people who are less fortunate. Instead of judging them, I learned how to help them. I now know what is important in life. If you are fortunate enough to go on this trip, you learn that life is far more important than yourself. Life is about helping others and serving your community in a positive way."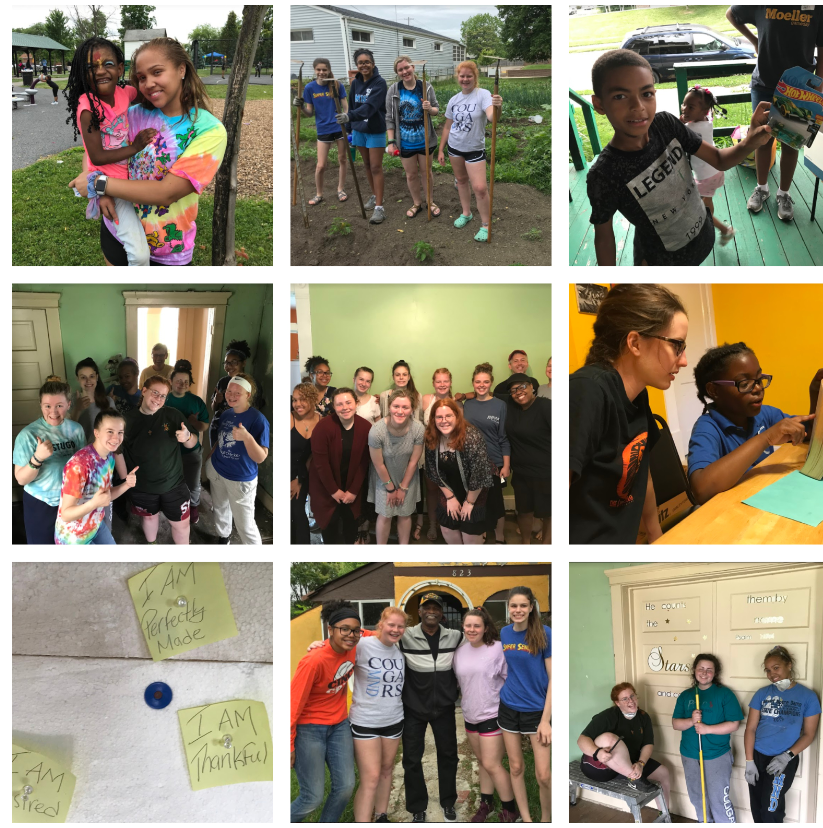 The Columbus, Ohio RTNI urban experience is a weekend visit with Aaron and Emily Starr, two wonderful people who run an inner-city ministry in Columbus OH called Reaching The Nations International (www.reachtni.org). Their ministry includes Youth Bible Study for ages 5 – 12, Proverbs 31 Girls which teaches girls ages 9 – 18 basic life skills, Money Talks, their financial literacy program for ages 13 and up, one-on-one tutoring and Young Gardeners of Milo, a 1000 sq. ft. garden project. Their unofficial ministry includes hanging out with neighbors in their home and connecting neighbors with resources when possible.
During our visit we will be doing a variety of activities including: service activities with the young people served by the Starrs, working on their ministry houses, hanging out with the teens they serve and sharing life experiences, playing games and visiting The Ohio State University. On Sunday morning we will attend mass at the Neuman Center on OSU's campus. 
Upcoming Columbus RTNI Urban Plunges
Winter 2020:  No Winter Trip this year.
Summer 2020: June 11 – 14, 2020
Application for Upcoming Plunge
CLICK HERE FOR APPLICATION

Sophomores of Service (SOS) Requirement
Participating in the Winter 2020 Columbus OH RTNI visit will fulfill your requirement.
Student Comments
"When I received the opportunity to return to Columbus to revisit Emily, Aaron, and the kids I met during my first experience with RXN, I was extremely excited. After going through my second trip, I can say that staying with the group this past weekend has been extremely beneficial and inspiring. Not only do I have a greater appreciation for my blessings, but I also have a deeper understanding of how God is present in everything around me"
"My life was so touched by this experience I just want to get more. The people were amazing, the experience was amazing and most of all God in what He teaches us is amazing! Every book has a story. Take a leap of faith and read the first page."
"Words cannot describe the experience in Columbus, OH. From the moment I got there to the moment I left, I knew that was where I belong. The kids were just beyond amazing all weekend and not only did I learn things from them but I also grew as I got to know them. I know that Columbus is where I will go back countless times and is something similar to what I will be doing with my life."