Why MND?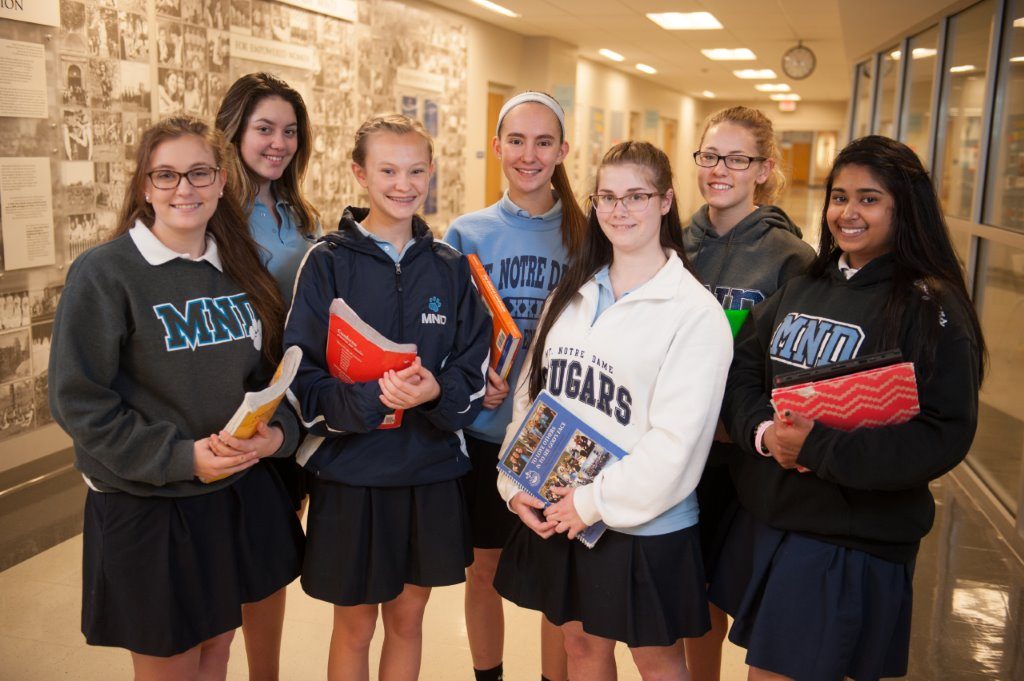 Hear from students and parents about why they chose and love MND!
Students' perspective:
Choosing MND was personally good for me because I feel like I can be myself. I can pursue things that interest me and can get involved in everything. I get so much support from the whole MND community which is personally something I was looking for and have found. I love MND because I feel that we have all become a big family that care for each other. I also appreciate the over flowing support from my teachers and the staff at MND. – Sydney Boyles '18
Choosing MND was a good decision for me because I was looking for three main components to high school and that was, a very high academic program, a very talented volleyball program and a place that feels like second home. MND has all of these qualities and I'm happily experiencing all three components that I wanted in high school at MND. – Sydney Jefferson '18
Parents' perspective:
Father Daughter Dance 2016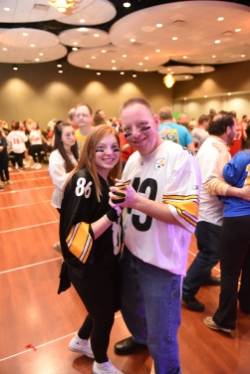 A spirit of empowerment permeates the halls of MND. It's a place where each girl's personal success is celebrated and no two paths look the same. The staff and faculty are like compasses helping the girls find their way. It sounds too good to be true but it's not. – Mina Jefferson
MND is a place where girls are encouraged and forced to succeed. It's a place of inclusiveness and great spirit. I like that my daughter has developed a great sense of awareness and is empowered to achieve her personal best. –Bobby Jefferson
Two poems from former students to incoming students:
You here, new student! Aboard, aboard, for school!
The backpack sits in the shoulders of your back,
And you are stay'd for St. Julie's blessing with you!
And use quizlet for your memory
See thou character. Give thy teachers no tongue,
Nor any makeuped face walk through these halls
Be thou familiar, but by no means disrespect seniors.
Thou friends thou hast, and sisters for life.
Bear't that you may beware of cafeteria food
Costly thy habit of buying zebra cakes daily
Neither a cheater nor a lender be
For the lack of apparel oft proclaims the demerits
Thou canst not finish homework in one night
This above all: microwave cookies for 22 seconds
– Marin Filipowski '15 and Ava Oelrich '15
Advice to a Newbie by Stephanie Faller '15 and Brittney Dorton '15:
You there, Cougar!
Be thou patient in thy experiences and thine entrance to adulthood.
But by no means, wish the time away.
Come forth with an open mind, let it not close to any one person,
Pay no heed to the wrongs now passed.
Seek first to fill thy heart and mind, and not thine time with men.
Neither neglect nor obsess over thoust homework,
But find the balance between challenge and comfort.
Take your passions and let them manifest in all you do.
Immerse yourself fully in clubs and activities you love.
Do all you do without regret.
Fear not failure nor success,
To ask for help is not weakness.
And dear friend, when in doubt
Always, always, hug it out.
Welcome; my blessings come with thee!
Why Choose An All Girls School?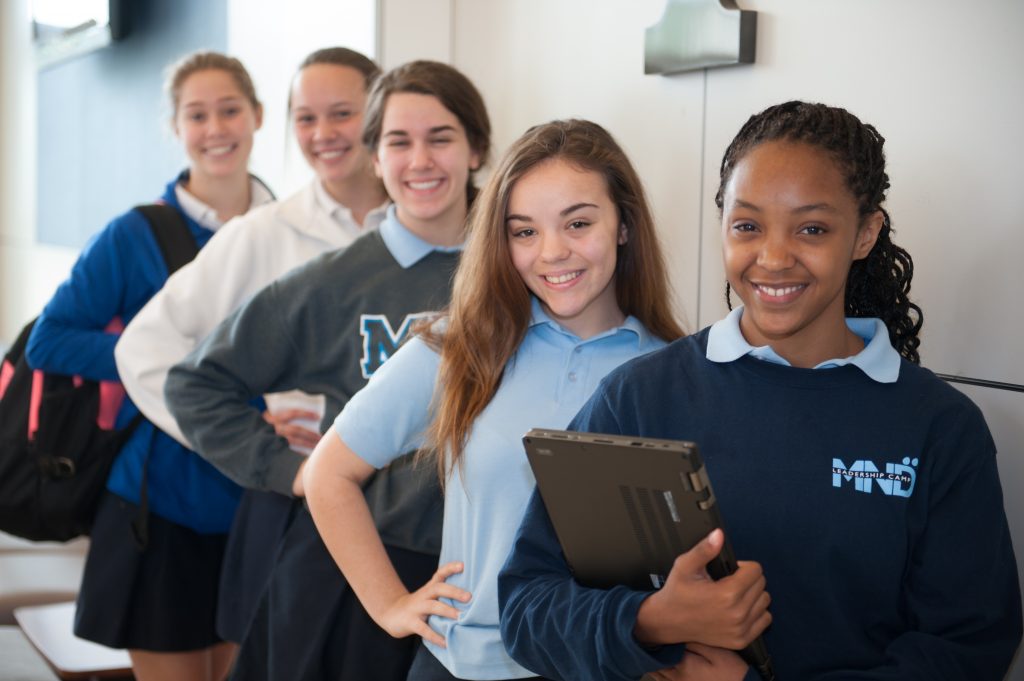 Mount Notre Dame's outstanding academic program, paired with a single-gender environment, prepares young women to succeed in life.
What MND students have to say about attending an all-girls school:
"I like being at MND, because the atmosphere is more open. Girls are able to be themselves, because what is important at MND is who you are as an individual and not how you look."- Erin Bell 2019
"Because MND is an all-girls school, there's a sisterhood and strong sense of community that I love."- Casey Kowitz 2018
"Sometimes with boys around, girls feel the need to hold back and become more reserved. But at MND, I have a voice and feel empowered to take on any challenge in or outside the classroom."- Claudia Frisancho 2017
8th Grader Dilemma
You're an 8th-grade girl, trying to decide what courses to sign up for in 9th grade. You're choosing between advanced Spanish and computer programming. You visit both classes. The Spanish class is very familiar: basically the same thing you've been doing for the past several years. The computer programming class, you notice, has 18 boys and one girl. Which class would you choose?*
Girls in a single-sex environment do not have to worry about being overlooked or compared to their male counterparts in the classroom. In fact, studies show that girls are more likely to choose more challenging courses when in a single-sex environment.
*Information provided by the NASSPE
Proven facts:
Girls in single-sex school experience…
Greater Academic Engagement
Higher SAT Scores (scores are 43% higher for single-sex schools)
Greater Interest in Graduate School
Higher Academic Self-Confidence
Higher Confidence in Mathematical Ability and Computer Skills
From Greater Co-Curricular Involvement in College – researched by Dr. Linda J. Sax of UCLA
"As a college professor I could identify the students from girls' schools on the first day of class. They were the young women whose hands shot up in the air, who were not afraid to defend their positions, and who assumed that I would be interested in their perspective." – Dr. Robin Robertson of LSU